Seattle Becomes First City to Allow Uber Drivers to Unionize
The ordinance appears likely to face a high-profile legal challenge.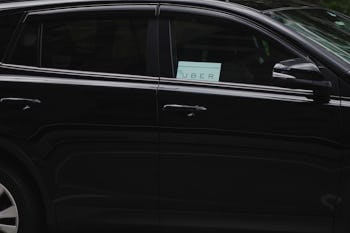 Getty Images
The Seattle City Council on Monday night unanimously approved a first-in-the-nation ordinance to allow drivers for companies like Uber and Lyft as well as more conventional taxi services to unionize. The massive ride-hailing apps that have taken over the taxi market in recent years will almost certainly challenge the law in court.
Supporters of the City Council resolution argue that Uber drivers are essentially employees, not contracted workers, and should be entitled to collective bargaining rights. They point to reports that Uber and Lyft drivers can make less than the minimum wage as evidence that drivers should have greater representation in negotiating pay and benefits.
Detractors claim that allowing the drivers to unionize would threaten everything that has made the new business model so 'disruptive.' Lyft released a statement responding to the ordinance:
"Unfortunately, the ordinance passed today threatens the privacy of drivers, imposes substantial costs on passengers and the City, and conflicts with longstanding federal law"
Federal trust laws give the power to regulate the market to the states, and Lyft is saying here that Washington state law doesn't give cities the right to independently create and oversee a collective bargaining process. In fact, despite passing the City Council 8-0, Seattle Mayor Ed Murray opposes the bill in part on the grounds that the burden of establishing a legal collective bargaining process may be too much for the city.
As for the issue of privacy for drivers, the concern is that a union may require taxi companies like Uber and Lyft to send it information about their drivers.
In the meantime, drivers have officially begun to organize, forming the App-Based Driver's Association through the Seattle Teamsters Local 117.
Uber and Lyft broke into the taxi industry by claiming that their business model allowed them to charge low fares and still attract new drivers with good wages. At least the latter part of the argument has fallen under scrutiny recently, as Uber drivers sat out an October weekend on strike, demanding higher fares, a tip option, and a cancellation fee.
As the first city in the nation to try to permit drivers to unionize, Seattle will likely be the test case for other cities looking to beef up workers' protections. If the city ordinance survives a legal challenge, it could set a whole new precedent for a global industry.