Marvel's 'Agents of SHIELD' Appropriated Charles Hinton, a Real Mathemetician
"Spacetime" underwhelms, but sets the stage for the rest of Season 3.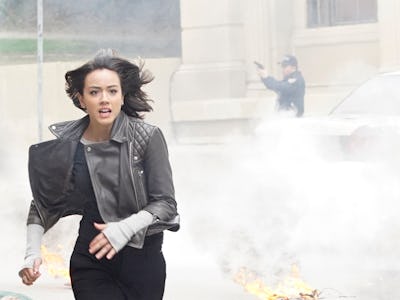 ABC
It's a sci-fi trope, used in the likes of 12 Monkeys, Doctor Who, and That's So Raven: characters fighting to correct dystopian futures. This week, S.H.I.E.L.D. faced this exact challenge, but came up short in the episode "Spacetime," a pivotal, yet underwhelming installment in Marvel's Agents of S.H.I.E.L.D.
After failing to keep HYDRA away from a homeless Inhuman named Charles (Bjorn Johnson) who has the power to pass visions of the future by touch, Daisy (Chloe Bennet) and the rest of S.H.I.E.L.D. — minus Mack (Henry Simmons, still recovering from "Watchdogs") — work to "reverse engineer" Daisy's grim visions and prevent HYDRA from winning. The baddies use poor Charles to buy a mega military manufacturer, giving HYDRA leader Gideon Malick (Powers Boothe) a scary weapon: a super strong, hi-tech exoskeleton.
Charles Hinton is actually a real historical figure who had theories about the fourth dimension and coined the term "tesseract" which might be familiar to Marvel fans. Hinton's (the real one) theories were actually explained, somewhat poorly, by Fitz (Iain De Caestecker) in the episode's funniest exchange thanks to a deadpan Coulson (Clark Gregg).
The rest of S.H.I.E.L.D. largely disappointed this week. Plot A was a bummer: Charles (the Inhuman, not the math guy) was a family man who left because his powers were ruining their lives, and when he dies he pleads to Daisy to protect his daughter. She swears she will do just that. It's sweet and well-plotted, especially in an episode that promises exactly what will happen, but it doesn't land as strong as it should. It's definitely missing a scene, and could have used a n actual glimpse of Charles's daughter instead of talking about her in the abstract.
But Daisy does end her plot with another important vision: The wrecked space shuttle, last seen in "Bouncing Back". There's no context to it and it's the first time S.H.I.E.L.D. has brought it up since the show first teased it almost a whole month ago. My personal theory: However loosely, it could be S.H.I.E.L.D. connecting to Captain America: Civil War. You can see Elena's necklace in the wreckage and someone is wearing a S.H.I.E.L.D. uniform. According to early episode summaries after Civil War hits theaters, S.H.I.E.L.D. is pressured to reveal their Inhuman allies and destruction up in Earth's atmosphere could be the hand that forces them.
Like Daisy's vision, Plot B and C will also have bigger repercussions in the next few weeks, through the end of S.H.I.E.L.D.'s third season. Andrew (Blair Underwood) returned, and his Inhuman form Lash becomes permanent unless Fitz and Simmons' (Elizabeth Henstridge) Inhuman "cure" works.
Then there's Grant Ward (Brett Dalton), new and improved from the alien parasite, his comeback made known by S.H.I.E.L.D. He becomes even more powerful at the end of "Spacetime," usurping Malick to control HYDRA. It was foreshadowed by Ward's lectures about power, and it's the best thing to happen to him since his shocking turn in Season 1. After this S.H.I.E.L.D. has to call it quits with Ward, there's just no turning back from here, but it'll be a fun ride until the end.