Marvel's 'Agents of SHIELD' Prepares for 'Civil War'
"Watchdogs" threatens S.H.I.E.L.D., but they have each other.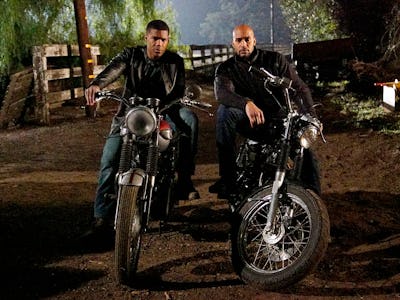 ABC
Marvel is really intent to engage in the political and social discourse right now; whether it's actually saying anything is another story. The X-Men have always functioned as civil rights allegories, but with Inhumans and Captain America: Civil War, it's time for Marvel TV to feature a CNN-style roundtable with superpowers. Following Bobbi and Hunter's departure, Agents of S.H.I.E.L.D. marches forward as internet hate group "Watchdogs" gets radical, and engages in a (comically absurd) act of terror. Yet, "Watchdogs" doesn't forget that the most important thing in turbulent, uncertain times is family.
On vacation after his Most-Wanted BFFs leave, Mack (Henry Simmons) is at home in small town Michigan, bonding with his estranged brother Ruben (Gaius Charles, just missing a reunion with Friday Night Lights co-star Adrianne Palicki). The Watchdogs attack a government building to protest the Inhumans using a ridiculously overpowered weapon that could be supplied by the likes of HYDRA.
It's a trying time for S.H.I.E.L.D. Bobbi and Hunter were some of the best agents, and now everyone has to pick up the slack. The brainy Jemma (Elizabeth Henstridge) is getting acquainted with firearms, Lincoln (Luke Mitchell) is stepping up, even though he knows he isn't ready, and Daisy (Chloe Bennet) is starting to be ruthless like a Gestapo, much to Mack's dismay. Everyone is losing it, but the only ones who can anchor them? Each other.
S.H.I.E.L.D. is a family. They bicker, and love, and bond, even settling into "roles" like Coulson's father figure and May's strict-mother type. It's no wonder why almost all the of the show's romantic relationships evolve in their workplace: Ward and May, Bobbi and Hunter, Jemma and Fitz, Coulson and Rosalind, even Daisy and Lincoln. Family is sometimes all you have, but Agents of S.H.I.E.L.D. asks us what happens when family disappoints you.
"Watchdogs" takes this to task through Mack, the big brother of S.H.I.E.L.D. It's sappy, but it resonates. It's compounded for Mack when he sees work-sister Daisy advocate for the Evil Empire, stepping on civil liberties to accomplish her mission. It's the exact question the Avengers will fight over in Civil War, and these tensions are being felt throughout the whole MCU. That's the risk of a united universe. Everyone's affected.