What is the Norwegian 'Maniac' Show That Inspired Cary Fukunaga's New Netflix Project?
Examining the hit TV2 show that inspired the 'True Detective' director to track down Emma Stone and Jonah Hill.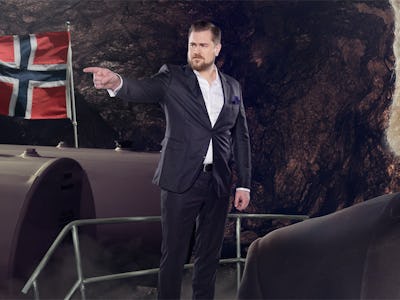 TV2/sumo.tv2.no
Cary Fukunaga may be best known for his exemplary work on imbuing True Detective Season 1 with its distinctive psych-noir mood, but through his other projects, the director has proven himself a true polyglot. He directed a Jane Eyre adaptation in 2011, and the border-crossing drama Sin Nombre two years prior. Last year, he explored civil war in Africa in Beasts of No Nation, his first Netflix collaboration. Now, his second major project for the streaming service finds Fukunaga tackling the most unlikely project he could find: a half-hour comedy series — one based on a Norwegian television series, at that.
The source material that moved Fukunaga to make this leap? What seemed worth shelling out for major movie stars who, at this point in their careers, could nearly snag a role in any Oscar-ready Hollywood feature of their choosing?
From Channel 4's Peep Show to Black Mirror, to Lars von Trier's The Kingdom series, we know that quite often, television "comedy" from the other side of the pond has can have a unusually dark, merciless sensibility. Norway's half-hour comedy Maniac— produced by Rubicon TV, who also produced Netflix's very first original show, Lillyhammer — is no exception.
Maniac, starring comedian Espen Lervaag, show snaps back and forth between a patient in a mental asylum and his internal, shape-shifting fantasy world. If in real life, his character (also named Espen) is a catatonic schlub, he is — among many other things — wealthy, fashionable, and beloved as the hero of his imagined universe. Sometimes, he resides in a mansion with bikini-clad women as attendants; at other times, he's a star football player, war hero, special agent, and cowboy.
Rubicon TV producer Anne Kolbjornsen explained the overarching message of the show to Variety last year:
"The American dream has gained its foothold in Norwegian culture… Espen, of course, takes this to an extreme, of imagining being loved by everyone around him. Every day appears like a party, and there's no limit to what he was experiencing. But it's simply too good to be true."
Kolbjornsen's statement gets at something that's very important about Maniac: As much as it is an absurdist comedy, the show hits hard as a piece of contemporary social satire. Espen's dream-world, in many ways, represents the creators' vision of the globalized "bro" and his self-serving, sometimes degenerate, aspirations.
In addition to exploring Espen's "too good to be true" imaginings, the show spends time with the people and attendants of the asylum. Emma Stone has apparently signed on to play another patient there, according to Deadline. It's easy to assume that, as on the show, the real-world personalities he encounters will enhance his dream universe.
Stone will doubtless get plenty of outlandish opportunities in that setting; perhaps even Fukunaga has cast Stone against type as Espen's fantasy pal Håkon (in the Norwegian version, played by the show's other creator, Håkon Bast Mossige). However, it seems strange that she is not assuming the role of the psychiatrist, Mina (Ingeborg Raustøl), who works to bring Espen back to Earth, and establishes a close relationship with him. In the Norwegian version, she is the show's third central (and most level-headed) character.
Of course, Fukunaga could be taking any number of liberties with his source material, and one should hope he does. With his limited but impressive track record, Fukunaga, ideally, will further distinguish his voice in the Paramount TV/Anonymous Content-produced Maniac. Across so many different projects, his signatures are sometimes hard to spot, but Fukunaga's unbelievable eye for cinematography and innate ability with actors has always been clear. Maniac seems like bizarrely promising source material for the director to bend out of shape, and come into his own.