Here's the HP Spectre, the "World's Thinnest Personal Computer"
The Spectre incorporates pioneering battery and cooling system designs.
by Kastalia Medrano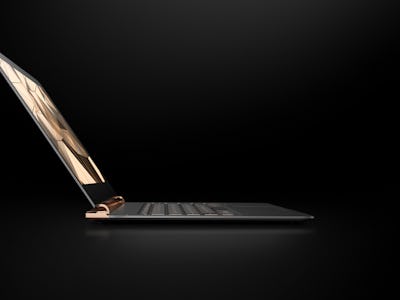 HP Inc
HP will unveil today its new ultra-thin personal computer, Spectre. At just 10.4 millimeters thick, Spectre's unparalleled razor-thinness is the biggest draw of a series of innovations HP has designed for its new model. Weighing in at just 2.45 pounds, it's the world's thinnest notebook.
The device is non-touch, which HP Vice President Mike Nash explained to reporters on Monday as being a direct response to customer feedback: The Spectre could be either very thin and light with a great touchpad, or incorporate the bulk of touch-screen technology. Apparently, the masses spoke, and they wanted their laptop to be light. In our nation's march away from traditional laptops toward iPhones and tablets, a lighter and more streamlined device appears to be more important than a touch-screen.
This laptop is, in effect, HP's next move in competing with personal-computer giant Apple. HP's president of personal systems Ron Coughlin said in an interview with The Wall Street Journal: "For years, Apple has been seen as the innovator and the driver of innovation. HP is really taking over that mantle."
The device features a new HP logo that will be a part of many of the brand's premium products going forward. Nash also said that in addition to its slimness, pioneering features of the Spectre include its hinge, battery, screen, and cooling system.
The hinge, in a departure from the traditional 360-degree clamshell-type hinge, recesses into the base of the device much like a cabinet does when opened. This is part of what allows the Spectre to be so thin. The hinge does, however, incorporate a piston to maintain the appropriate friction and resistance for staying open at any angle.
The Spectre has a battery life of 9.45 hours, and the design itself is unique, built like everything else to accommodate the laptop's thinness. The battery comprises two pairs of cells, for four total, spread out to "fill all the nooks and crannies," according to Nash.
Display glass is often comparatively thick, but Spectre's entire display is just 2 millimeters, with the Gorilla Glass screen itself measuring a fourth of a millimeter. This also allows the display to be uncommonly bright – there's just less glass to force the pixels through, which also has the benefit of making it more energy efficient. Nash says it can still handle more than its share of bumps and drops, more than twice the abuse of other comparable glass screens.
The Spectre also incorporates an entirely new approach for managing heat. Rather than traditional fans which would be too bulky for such a thin device, the laptop has a hyperbaric cooling system that forces air into a sealed chamber while positive pressure pulls air from the processor and into a heat pipe, where it's forced out. Nash says that in addition to accommodating the thin design, the hyperbaric system is highly efficient on its own merits.
The Spectre also features three USB ports, all of which can be used for charging, and two support thunderbolt display. A Bluetooth mouse is also available. The laptop ships with Windows 10, has 8GB RAM, and is equipped with either an Intel Core i5 processor ($1169.99) or an i7 ($1249.99). It will be available in the United States for pre-order online April 25, and in stores May 22.
It will make its debut today at the International Luxury Conference held at Versailles.