Watch Blue Origin's New Shepard Rocket Go to Space and Back for a Third Time
New video shows a rocket that's been to space and back three times now.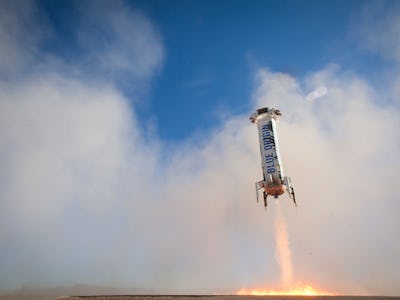 Blue Origin
We knew that the third attempt to launch and land Blue Origin's New Shepard rocket would be filmed by drones all around the West Texas launch site, because Jeff Bezos announced it'd be part of the customary post-launch video. Today, that video came out and it will make you want to go to space more than you already do.
Saturday's launch was the first since Bezos opened the Blue Origin headquarters to reporters, when he said the company was looking at a 2018 time window to take people into low-earth orbit on the New Shepard rocket. We got another look today at how that will happen: A crew capsule will be carried almost 340,000 feet above the earth by a BE-3 rocket booster powering the New Shepard rocket, then the capsule separates — leaving us weightless and floating for a few minutes — before the capsule, carried by three parachutes, descends to earth, hitting dirt at a gentle 1.3 miles per hour.
It seems as if, publicly anyway, that the Amazon founder and Washington Post owner is closest to making regular space tourism a reality when compared to his two big competitors: Elon Musk of SpaceX and Richard Branson of Virgin Galactic. Musk is pretty well occupied with this Friday's Falcon 9 rocket launch, which will carry the uncrewed Dragon spacecraft on a commercial resupply mission to the International Space Station. It will be just the latest Falcon 9 launch of the many that are scheduled this year (Musk also has that Tesla business you might have read about). Branson, meanwhile, just unveiled his updated Space Ship Two, which was designed to be safer after a fatal crash last summer was caused by pilot error.
So Bezos is keen on letting the public know just how they can go to the edge of space in what might be only two years: "We'll have drone cameras in the air and hopefully will get good aerial footage to share," Bezos posted to Twitter on Friday, April 1.
He wasn't kidding:
Blue Origin's got more on its plate that just carting the adventurous (and wealthy, probably) to space for five-minute joyrides, though. Earlier this month, Bezos updated everyone on the Blue Origin email list on the progress of the BE-4 rocket booster, which he hopes will eliminate America's dependence on Russia-made rocket engines. It's something that Blue Origin has been working on with United Launch Alliance for some time.
What's become old-hat by now is the fact that Blue Origin was the first aerospace company to actually land a rocket back on earth, making it reusable. Everything about a rocket is expensive, so when Blue Origin safely landed its New Shepard rocket back on earth for the first time in November, it was a big deal, no matter what qualifications Musk had. Then, in January, Blue Origin sent the same rocket into space and landed it again safely. The company did it for a third time Saturday.
Blue Origin announced that the New Shepard reached an apogee of 339,178 feet or 103 kilometers on this most recent flight, which used all the same hardware as the flights in November and January. "We pushed the envelope on this flight, restarting the engine for the propulsive landing only 3,600 feet above the ground, requiring the BE-3 engine to start fast and ramp to high thrust fast," the company announced.
There were also two microgravity experiments conducted on Saturday: One a so-called "box of rocks" experiment and another dubbed "collisions into dust."
On Saturday, Bezos called the third successful attempt and a land-and-land a "flawless success."
Now we have breathtaking video to prove it: