Meet Juicero: A $700 Press That Makes One Expensive Glass of Juice
Silicon Valley investors are forking up $120 million to fund the business.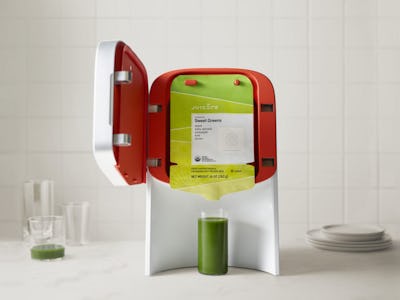 Screenshot from Juicero's website
Are you ready to drink the most expensive eight-ounce glass of organic juice of your life?
The price for organic juice has, admittedly, never been cheap. But, the San Francisco-based company Juicero, opening for business this week, is selling an app-connected press for $700: $400 more than the most expensive, best ranked juicer of 2016, according to Juicer Fanatics.
While the price tag may raise quite a few eyebrows, Silicon Valley investors are sold on Juicero's business plan. The company's founder, Doug Evans, wrangled $120 million in investments from huge tech tycoons like Google Ventures, Campbell Soup, and Kleiner Perkins Caufield & Byers. Why exactly are these huge Silicon Valley conglomerates throwing so much money at a juice business? The New York Times speculates that it's just another techno-utopian impulse:
"Many of the tycoons who inhabit Silicon Valley are obsessed with health and longevity while harboring the conviction that technology can improve anything, even one of nature's most elementary foodstuffs — in this case, juice."
Evans has been happily promoting Juicero's achievements today, tweeting that he's "proud to bring the power of juice to more people with @juicero."
Juicero is not only a juice press, but also a juice-ordering app and a food processing factory in Los Angeles — all rolled into one big juice business venture. The machine itself looks like your typical juice press but has wifi connectivity. "It's the most complicated business that I've ever funded," David Krane, a partner at GV, formerly Google Ventures, told The New York Times. "It's software. It's consumer electronics. It's produce and packaging."
Instead of chopping fruit yourself for its juicer, the Juicero app makes it simple to order Juicero pouches, which are filled with organic fruits by dozens of workers in the company's Los Angeles processing center. That pouch is simply inserted into the machine, and a button is pressed, and out comes juice. One pouch costs anywhere from $4 to $10 and produces enough juice for one eight-ounce glass. The company writes on its website: "Our team is on a mission to help people consume more fresh produce everyday." The system "represents three years of hard work to bring cold-pressing technology (and nutrient-dense goodness) home."
While he has no experience running technology companies, this isn't the first time Evans has dappled in the juice business. Evans, who became a raw vegan 14 years ago, started a juice-bar chain in 1999 with his former girlfriend Denise Mari. He bought industrial strength juicers and sold bottles of cold pressed, unpasteurized juice for ten bucks a pop. Evans sold the business in 2012 and started up Juicero, which got its first round of funding in 2013 and $70 million of Series B funding in 2014.
"Juice is the beginning. This is the future of food," Evans said on Juicero's site. "Juicero will be leading the way on every front—food science, nutrition, technology, design, supply chain—as we build an ecosystem capable of getting organic produce from local fields into homes in ways that are both innovative and convenient."