Pauly Shore, Rick Moranis, and Other Comedians Who Deserve Their Own 'Louie'
If Rob Schneider and Andrew Dice Clay have them, why not Pauly Shore and Lewis Black?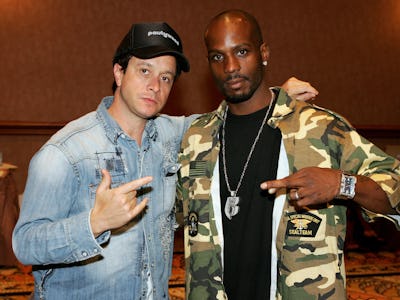 Ethan Miller/Getty Images
Not only peripheral or "washed-up" figures have attempted 'Louie'-esque, pseudo-realistic shows about being comedians. Master of None, for instance, while not outright autobiographical, is certainly a post-Louie show and Aziz Ansari is one of the most famous young comics working today. But more marginal figures stand to gain the most by cashing in on this trend. On paper, it also seems like an easy win to a lot of actors and comics. It's also definitely an excuse to be indulgent: Take the self-funded, Netflix-only Real Rob, which is the worst standing example of this kind of show, in which Rob Schneider stars alongside his real wife and children in lead roles as themselves.
One wonders how long the Louie wave will last, or if it's already drying up. Yet new shows continue to surface: Tig Notaro's One Mississippi is set to be put to a full season by Amazon after a promising pilot, and Andrew Dice Clay's actually pretty funny miniseries Dice will premiere on Showtime on April 10th. So if we're set to keep rolling, it's worth considering who we'd like to see as a slightly sad-sack, post-Louie protagonist before the money dries up. Here's a working list of nominees.
Pauly Shore
Pauly Shore's universe seems like it must be a sad and singular one; in these shows, stories like his are always the most interesting. His last turn in a major-studio film was The Wash in 2001. The narrative of his potential show would capture a man on the other side of a great deal of success that happened during a very different time. Encino Man could be made, and VJs were huge personalities. Also behind him (the fictionalized version, that is): countless benders and almost as many failed relationships.
How do you cope? What moves do you try to make professionally? Do you coast on Biodome cash, and dig yourself deeper into isolation and depravity? How do you "grow up" after having been paid so much to be a buffoon for so long? These are some of the questions Pauly would answer.
Rick Moranis
The all-beloved Moranis has been retired for so many years that it's unlikely he'd sign on for a project like this unless HBO got behind this, and paid him enough to recoup his kids' Ivy League education, or maybe build a new wing in his house for his oversized model train set. Who knows what Moranis does? We can only assume it's things like expensive model railroading.
Moranis at Home would be the polar opposite of Shore's show. It would take place, of course, largely apart from "the business," and therefore provide a welcome contrast with other shows in the Louie-wave category. It would, however, account for his bizarre, little-known career as an Allan Sherman-influenced singer of novelty songs. Otherwise, viewers would be treated to images of a reclusive family man trying to distance himself from his oh-so-iconic past (declining Ghostbusters cameos and the like) and hating every minute of attention from passerbys on the street.
Is it possible for such a goofball icon to ever regain normalcy? It's fighting windmills, for sure, on Moranis at Home.
Mario Cantone
Explain to us, Mario, the life of a born Comedy Central Roast comedian. How do you not lose your voice screaming and cackling every night on tour? Who is the man behind the contorted, well-manicured mask? What does Mario Cantone dream? Perhaps only his upcoming off-Broadway show about, unsurprisingly, a boisterous, old-school Italian-American family. All this and more in Bravo's Cantone.
Norm MacDonald
Norm is one of the weirdest and most lovable marginalized comic voice that came to prominence through SNL in the '90s. Today, he moves in and out of podcasts — including his own — guests on late night and Comedy Central, and tweets formalized play-by-plays of golf tournaments. Norm showed up on Real Rob and it was hard not to think — that is, for the three people who actually watched it — "Why aren't we watching Real Norm?"
Lewis Black
How much more angry is the famously angry Lewis Black these days? He's making the occasional cameo and doing voice work for (sure) Inside Out, but also Teenage Mutant Ninja Turtles and Scooby-Doo TV reboots. How does the most sage, blood-vein-popping political commentator of Comedy Central's golden age truly feel about his lot in life? What does he do with his spare time? One imagines him secretly aiming high-brow, writing some bleak [Winesburg, Ohio](https://en.wikipedia.org/wiki/Winesburg,Ohio(novel)-like collection of short stories about life in small-town America, cooped up in some West Village apartment. He likes, perhaps, to imagine simpler but troubled lives worlds away from his own. After all, why wouldn't be write fiction? He's written numerous comedy books in the past; he knows publishers (who could make excellent Jeff-on-Curb-like characters!). Imagine Black as a surrealist drama of creative struggle, Barton Fink-style, except with Dave Attell and Jim Breuer cameos.