Louis C.K. Is to Blame for Rob Schneider's Netflix Show 'Real Rob'
Schneider's new eight-part series would not exist without the dangerous precedent set by 'Louie.' Time to consider.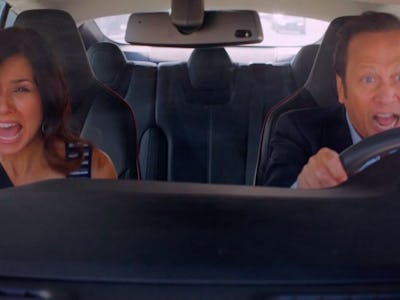 Real Rob, Netflix, Louie C.K.
"I can't touch your boobs? Well, that sucks!"
Rob Schneider, acting as Rob Schneider, manages to fit this line in during the first minute of his new Netflix-exclusive show, Real Rob. In its cold open, he's lying in bed with his real wife, Patricia Schneider, who doesn't want him to get bacteria on her nipples — it's a first step toward establishing a fundamental woman-wears-pants-in-the-relationship line of jokes.
This sounds about right, no? This is exactly what you might expect to be the opening talking point on a Rob Schneider comedy series. It could have been the same at any time over the past twenty years. You'd also expect, no doubt, the incessant jokes about having "too many dicks" in his house when his wife is preparing to mount a Chippendales-style "male revue," the Taiwanese producer of an erectile dysfunction-combatting drug crookedly posting Schneider's face all over Los Angeles next to a flaccid dick symbol, or Schneider forcing his personal assistant to get a vasectomy so he can gage if it causes dementia or not. After all, Schneider — as he self-reflexively points out in a scene to demonstrate how wealthy he is — "made 17 movies with Adam Sandler." Real Rob will have you hard-pressed (NPI) to determine which you prefer: "The Penis Episode: Part I," "The Penis Episode: Part II," or "Gaying in Shape"?
But what is surprising about Real Rob is how "real" Rob really wants to get, and the form he wants his "real"ness to take. Basically, he's borrowing an archetype of form that's becoming pervasive in the wake of FX's unexpected success with Louie, with accents of that show's less self-serious forebearer Curb Your Enthusiasm and meta-tales of the washed-up like Lisa Kudrow's excellent The Comeback and LeBlanc's patchy Episodes. Schneider even intercuts stand-up routines against a brick wall, and some mockumentary-like talking-heads scenes which make absolutely no sense in the frame.
No, I'm not saying that Real Rob has the mumblecore, late-'70s Woody Allen weltschmerz of Louie's show, but the business model is the same. This is comedy about trying to do comedy, dealing with "the business," and haplessly tending to the personal life falling into shambles around it. It's deeply and abidingly imitative — also, completely next-level anti-comedy of a kind you don't get a chance to see every day.
It's all been fun and games up until now with this recent wave. In the age of Just-Okay TV, shows like the stagey Maron have been able to accrue a reasonable fanbase, or at least distribution. More recently, The more adventurous Eric Wareheim-assisted Aziz Ansari show Master of None has become an unexpected phenomenon working in Louie's moody stylistic template. Tig Notaro's Diablo-Cody-penned One Mississippi pilot, which hit Amazon last month, is also emotionally overcharged dramedy about a comedian. Difficult People is a different post-Girls and Broad City ballgame, but it is still comedy about comedians and comedy.
Sure, plenty in Louie is invented, and increasingly totally detached from his real life, but the shows its success has made viable have flirted increasingly to getting things deathly close to the autobiographical, a risky proposition when it starts happening this much.
"Claustrophobia: the gayest of all phobias" — R. Schneider, Real Rob
With "Real Rob," perhaps it's the right time to say enough is enough. Schneider was so intent on cashing in on this window during which cost-effective, slightly lazy and inevitably solipsistic productions by comedians that he fronted his own money to produce this series. This autonomy allowed him, presumably, to have not only no one looking over his shoulder and saying "Maybe that joke about the jovially racist police officers could have be handled better?" but to direct and co-write every episode, and cast his actual family as leads. The resultant scripts address a banal assortment of things he cares about or has some experience with: organic juices, aging poorly, signing autographs, combatting unwanted dicks.
I love Louie, I like Aziz's show, and I thought Tig Notaro's pilot was okay. I think that Real Rob is insane and like a four-hour Tim and Eric skit. It's a joke about what could happen if the most improbable actor possible tried to make his Maron, but that's literally what it is. Real Rob is an important case study. Do you, reader, want to be part of the problem, or the solution? If you don't want TV comedy (or even films — the sporadically hilarious Top Five had hints of possibly self-indulgent things to come) to turn into Comedians on Shows Talking About Themselves, then think the next time to peruse that new, disarmingly confessional pilot, because it just might be Lampanelli, or Mohr, Jay Mohr's real tale of struggling to open a chain of comfort food restaurants or some shit.
Beware the Ides of Real Rob!