With HBO's 'Vinyl,' the Andrew Dice Clay Renaissance Is Upon Us
A brief history of the reviled Brooklyn standup's bid to return to the spotlight as a serious actor.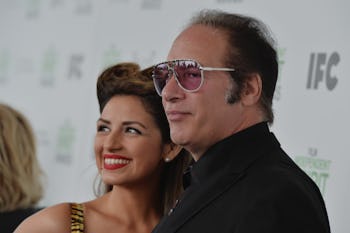 Kevin Winter/Getty Images
Few reading this may remember the days, but at one point, Andrew Dice Clay did standup at Madison Square Garden to a sold-out house.
This came at the beginning of the '90s, before (in the rearview mirror of I Love the '80s) the Diceman became the insult comic equivalent of Gallagher or The Family Circus: a cultural anomaly it's hard to credit ever happened. Quick summaries play the Sheepshead Bay, Brooklyn comic off as puerile in every way — remarkable only for being that, dangerously un-self-aware, a byproduct of a fickler society. In his heyday, he was banned from MTV for misogynistic, racist nursery rhymes — a staple of his bit. Several SNL cast members refused to participate when he hosted the show.
A 1990 Village Voice profile recalled his talking points during an average hour-long set in his standup heyday. During this time, Dice was touching on "women, dwarves, dogs, Latins, Pakistanis, Arabs, beggars, paraplegics, Oriental business acumen, and deejay Howard Stern, with whom Dice had some words over complimentary tickets."
Later, when his commercial apex was behind him, Dice became one of the early henchmen of now-departed controversial comedy radio personalities Opie and Anthony. In 2000, the comic made his last standup album to date: Face Down Ass Up, featuring classics as "Big Tit / Pin Tit," "Sid and the Oriental," and, of course, "My Cum."
There are few in the annals of pop culture history who seemed less primed for a comeback. A couple years ago, I would have nominated Carrot Top or Steve-O over the Diceman. But now it seems his resurgence is definitively upon us.
The first to give Diceman a chance was Woody Allen. The director cast Dice effectively in his best film in at least a decade, 2013's Blue Jasmine. Allen's film is a play of character types in A Streetcar Named Desire; Clay's Augie and Bobby Cannavale's Chili split Stanley Kowalski duty, representing different segments of the id of the quintessential all-American brute. Clay fit the part like a glove. He returns later in the film to sell a difficult "change of heart" character arc. Who was this actor who had shown up calling himself Andrew Dice Clay?
Blue Jasmine seemed like a fluke occurrence, but how more pieces seem are falling into place for a Dice resurgence and reinvention. This new ADC who is not necessarily "the Diceman," in the same way that Dwayne Johnson is not necessarily "The Rock," one we'd only got a glimpse of in an intermittent role in the Michael Mann-produced '80s series Crime Story.
Perhaps the next relevant news item to the Diceman saga got drowned in the sea of new-TV-series announcements — ever more overwhelming these days — in the entertainment news rags. Showtime announced this past week that its semi-autobiographical series about ADC will premiere in April. The title? Dice, of course. Natasha Leggero (and who else) stars as his girlfriend. Adrian Brody shows up and they make jokes about The Pianist. Lorraine Bracco (you know, Dr. Melfi?) makes a dick joke. It's all in the first trailer.
With people like Rob Schneider getting in on the Louie wave, was it really such a surprise that Dice was putting in his bid with a self-aware comedic drama show? Not necessarily. He'd already started a podcast; Dice was just this logical next step. Yet it was still indicative of the fact that a more self-aware version of the man was developing, one who would have to pull himself out of his comfort zone even if he was simply trying to cash in.
Last night came a bigger revelation, and the most unequivocal evidence that Dice might have a bright future ahead of him. It might have taken a double take — or more — to make out Dice's familiar face underneath the sunglasses, shaggy hair, and muttonchops in Vinyl's Martin Scorcese-directed season premiere. But there was no mistaking the accent, and the brash, deliberate cadence of the delivery.
Clay makes a turn as Frank "Buck" Rogers, a squalid, megalomaniacal, and ambiguously mentally disturbed radio DJ. The nearly unrecognizable Dice, who seems totally lost in his character, lights up the screen, especially in the climactic scene of the full two-hour premiere. Buck comes to blows with Cannavale's Richie Finestra and label-hired thug Joe Corso in his Long Island mansion, resulting in disaster. But the true moment of zen is a sequence of Dice, screaming and drumming along to Black Sabbath's "War Pigs" half-asleep. Later, he delivers an intricate monologue about the all-powerful role of the no-bullshit and payola-pocketing DJ as the mortar of the music industry.
Keep in mind: Before Blue Jasmine, Clay's biggest acting turn was in The Adventures of Ford Fairlane. The 1990 film is Clay's only star Hollywood feature, the debaucherous tale of a "rock 'n' roll detective. All who worked on it or saw it collaborated to sweep the flick — Vince Neil cameo and all — under the rug of history.
In interviews these days, the Diceman seems both wholly the same person ("Gay just isn't as funny a word as faggot," he explained to Rolling Stone in 2012), and more deathly serious and composed than ever before. In an interview with Joy Behar in 2013, he called his (popular) Showtime-aired standup special of 2012, Indestructible, his "Rocky VI." There was hardly a hint of humor in the comment, meant to articulate that, with Indestrucible, he had gone about as far as he could go with the art of standup. It was time for the Diceman to move into other arenas — maybe ones where he didn't or couldn't say "fag."
Blue Jasmine was a step in the right direction, and Vinyl solidifies it: A new Dice Clay takeover is probable, not possible, and something we should welcome with open arms. In his one-star review of The Adventures of Ford Farlaine, Roger Ebert took some time out for a single positive comment, and to offer some constructive advice.
"Is the movie any good? No. Does Andrew Dice Clay have a future in the movies? As an actor, yes. He has a strong screen presence and he's at home and confident. But his persona is going to get very old very fast, because it's not likable to begin with and there's nowhere he can go with it.
"If he wants a future in the movies, Andrew Dice Clay is going to have to play somebody other than himself."
Whether you agree about the Dice persona of old or not, it's very clear that, 25-plus years into his career, Clay is ready to play at being someone else. In doing so, he'll be sure to win over some new hearts. If Fred Durst can win a prestigious award at the Tribeca Film Festival, perhaps Dice Clay — perennial asshole that he is — can be the next great American actor.