Why Dan Harmon's 'Great Minds' Is One Of TV's Most Educational Shows
The History Channel's 'Night Class' block continues with a solid, sneaky 'Great Minds' episode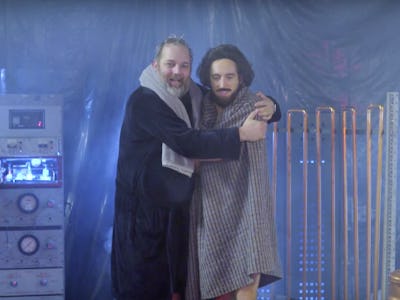 Last night, History's delightful Great Minds brought us another episode in which Dan Harmon's character, Dan Harmon, learns absolutely nothing. The show, which last night featured Thomas Middleditch as William Shakespeare, is rapidly becoming a program hip history teachers should be showing their high school students. It's just informative enough to fit on History, while exploring the historical contexts of contemporary society.
Take Harmon's fragile masculinity for example. Last week, he used his faux-beta male personality to slyly help first wave feminism shine, by hitting on Mary Wollstonecraft (Aubrey Plaza) like a total dunce. This week, his fragile ego illustrated how history came to regard Shakespeare as high brow literature, though in his time he certainly would have enjoyed films like Dirty Grandpa.
Harmon, flustered because Shakespeare clearly hated Community (except for Chevy Chase), sputters, "but the characters are one dimensional joke machines!" and Shakespeare responds with enthusiasm. "I particularly loved the horny woman!" he says. "I thought she was quite lascivious."
By delivering most of its historical information in an indirect way, Great Minds has stumbled upon a way to make history feel legitimately cool. This sly meta-humor has always been Harmon's strength: making fiction that looks shallow upon first glance, but is incredibly complex in its rendering. Great Minds, for this reason, continues to be a high point on History's late night comedy block.