'Broad City' Proves the Futility of Fixing Your High School Past 
Abbi tries to fix her past when she returns home with Ilana, but things don't go as she plans.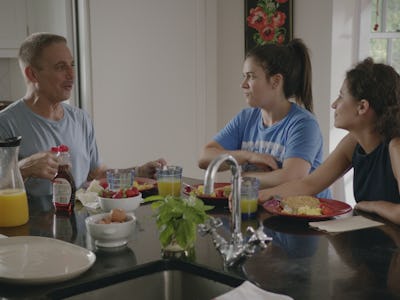 Comedy Central/Broad City
Comedy Central's Broad City paints a picture of New York that you don't often see on screen. Rather than the way Sex and the City, for example, paints New York as a high-stakes metropolis with a new fling every week, Broad City focuses on the absurdities (and bonds) that keep New Yorkers sane. And because many New Yorkers aren't originally from the city, sometimes that means leaving the island. Wednesday night's episode chose to explore Abbi (Abbi Jacobson) and Ilana's (Ilana Glazer) friendship in a completely new setting: Abbi's hometown west of Philadelphia.
While "Philadelphia" shows Abbi and Ilana getting into plenty of their expected screwball antics, the episode captured the disappointment we often encounter during homecomings.
The episode marked first time in Broad City's three seasons that Abbi and Ilana leave New York. With New York's background noise removed, Abbi's and Ilana's predicaments and adventures in "Philadelphia" inherently feel more important. The first half of the episode is driven by the understandable elation to escape the city — and particularly, Abbi's sweet nostalgia about home. We get to meet Abbi's sweet dad (Tony Danza), and the excitement is even more palpable as Abbi and Ilana dig through Abbi's memories in her childhood bedroom. Riding that initial back-at-home high, Abbi decides she wants to atone for some of the social sins she committed in high school, which means confronting plenty of sour memories. Abbi's efforts show us that our pasts are sometimes better left untouched.
While sifting through her things, Abbi finds an envelope that contains money she raised for her friend Alice Ackerman (Kelly Rohrbach), who was hit by a bus in high school. The fact that she's holding the envelope, however, means that she actually forgot to give Alice the cash to cover her medical bills. The rest of the episode follows Abbi and Ilana as they locate Alice to give her the money, an obstacle-laden journey that slowly extinguishes all nostalgia for home.
On the way to find Alice, Abbi runs into one of her high school classmates to whom she gave a disgusting nickname, which unfortunately stuck with him well after high school. In an attempt to atone, she sloppily makes out with him, until at the end of the episode she discovers that he's married to Alice Ackerman. We'll get back to that in a minute, though. Abbi assumes that once they find Alice, she'll be deformed or in a wheelchair. When they arrive at Alice's mansion, Abbi and Ilana are surprised to see that Alice isn't in a wheelchair or living a sad life. Instead, she's a wealthy, tall, impossibly gorgeous model who clearly made it through her accident by the grace of her perfect genes.
Alice eventually pieces together that Abbi made out with her husband earlier that day at the bowling alley, so she takes the money from Abbi and slams the door in her face. So much for atoning.
"Philadelphia" captures how easily our nostalgic illusions of home can be shattered. Returning to old activities may feel liberating at first, but habit may turn to boredom — and boredom begets feeling trapped. The more specific experience of returning to a modest hometown setting with an ego inflated by the big city may prompt someone to prove the evolution of their character by rectifying issues that were left unsettled. But home should be a comfort, a place to unwind and allow our old selves to flourish, not an opportunity to prove our new worth. The past is sometimes better left in the past, especially when you're a bad luck magnet like Abbi.