Representative Marsha Blackburn Does Not Fucking Love Science
Before the Representative tried to intimidate academic researchers, she debated whether climate change was real.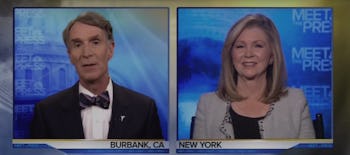 Screenshot from YouTube/NBC
Representative Marsha Blackburn, a Republican from Tennessee, is no friend to the scientific community. On Thursday The New York Times profiled her involvement with the House Select Investigative Panel on Infant Lives, a special committee that plans to issue subpoenas demanding the names of the researchers, technicians, and administrative staff involved with fetal tissue research. The scientific community took this as a blatant act of intimidation — there is a very real danger of being exposed.
The infamous Planned Parenthood "exposé" videos begat Blackburn's committee, which continues its hunt despite the fact the videos didn't actually expose anything. Planned Parenthood does not make any money from the sale of fetal tissue. And access to fetal tissue is integral for researchers who search for lifesaving medical advances.
But facts, seemingly, don't mean that much to Blackburn. A climate change skeptic, she debated Bill Nye on the NBC program Meet the Press just last month. In her words, she represents the "true environmentalists and conservationists" of Tennessee.
"What we have to do is look at the information that we get from climate scientists," Blackburn tells the host. "As you said, there is not agreement around the fact of exactly what is causing this."
In reality, there is a scientific consensus. A 2013 study found that 97 percent of climate experts agree that humans are causing global warming. Just because a sliver of the scientific community, like Richard Lindzen (who has been found to be consistently wrong about the science), disagree, doesn't mean there is not a consensus.
Still, Blackburn cherry-picks her facts, purposefully leading the public astray from the science at the heart of the issues she opposes. Her goal, as Bill Nye said, is to try to "introduce doubt." The reality of climate change, however, is very different than the uncertain chasm of mysteries that Blackburn describes. Recently, one of the top global experts on climate change released a paper reiterating the point that climate change is a real global emergency.
But Blackburn will continue to avoid the facts. The majority of scientists agree that while using fetal tissue is not an easy choice, it is a necessary one. If Blackburn and her collaborators succeed in intimidating researchers from doing their work — something that is already happening — then society will fall behind from developing the cures to threatening conditions like Zika, Parkinson's disease, and AIDS.