Estonian Prime Minister Taavi Rõivas Makes a Splash on 'The Daily Show'
The young Estonian leader is making life for his citizens easier through digital infrastructure programs.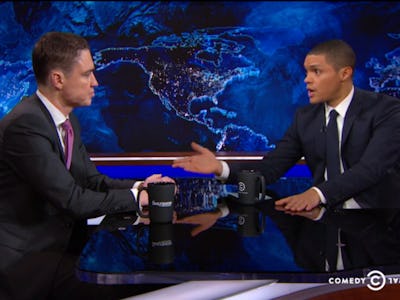 At just 36 years old, the young, handsome, prime minister for Estonia was Europe's Justin Trudeau before Trudeau was Trudeau. The not-quite-millennial Taavi Rõivas, elected in 2014, took to the Daily Show's young audience Tuesday night to discuss some of the more remarkable reforms he's made to the digital landscape of his tiny country, which, with a population of 1.3 million, is slightly larger than Dallas.
The significant advantage of less people aside, Estonians can vote online, access fully digital health records, and even file taxes online, which Rõivas said he was able to do last year in a matter of minutes from inside an airport.
"Jeb Bush says Estonians can fill out your tax returns in five minutes, is that true?," Host Trevor Noah asked the prime minister, who responded, "Well, it used to be, now we've upgraded the system and it's three minutes on average."
Americans who spend hours filing tax returns are sure to be a little jealous of that fact.
Estonians also have accessible wifi just about everywhere in the country, mainly because Rõivas says they consider it a human right.
These reforms, which began rolling out in 2000, are typically seen as too expensive to implement, especially in countries as big as the U.S. But Rõivas said these innovations are a cost saving measure for Estonia.
"Filing those papers it takes a huge amount of time, you need to go to all kinds of offices and you need a back office … who needs to put all this data to a computer or somehow analyse it," Rõivas said in the interview. "So if you do it online you skip several parts, it's faster and more cost efficient."
Having the youngest prime minister in any European country is definitely a "competitive advantage," Rõivas said, and the fact that it's a smaller country helps as well. So it's hard to tell how these sorts of reforms would translate to the U.S., but many citizens would likely benefit if it could work.