'Supergirl' Takes Another Jab at Trump's America
Yet again, 'Supergirl' goes to the aliens-as-immigrant metaphor well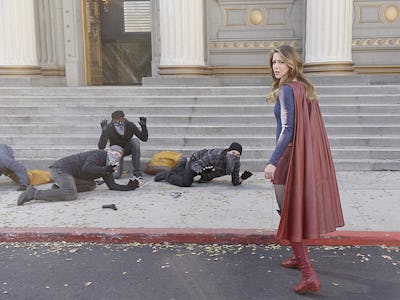 CBS
While most likely a coincidence, it just so happens that the same week Superman will come face-to-face with a billionaire's xenophobia in Batman v Superman: Dawn of Justice, his small-screen cousin, Supergirl, has to endure a prejudicial witch hunter in the poetically titled "Manhunter." In Supergirl's case, it's a well-meaning episode but a bit of a corny slog through J'onn's/Martian Manhunter's (David Harewood) and Kara's/Supergirl's (Melissa Benoist) histories that ultimately proves telling can be better than showing.
Following last week's excellent "Falling", when Hank revealed himself as the Martian Manhunter, the government digs into the classified DEO to eliminate all alien life and ship them to Project Cadmus, a dubious genetics project and staple of DC mythology. With interrogation scenes come ruthlessly benign and unintentionally funny flashbacks, like Alex (Chyler Leigh) as an aimless party girl and Kara from her job interview at CatCo, looking even more adorkable than ever presumed possible. Both sets of flashbacks are painfully cute — in the way that actually stings your eyes — like a splash of vintage 2008 Zooey Deschanel right to the face.
But then there's Jeremiah Danvers (Dean Cain) on the mission with the real Hank Henshaw with the DEO ten years ago, which confirms this flashback business as nonsense. First told by J'onn when he revealed himself to Alex, the life-changing story is not as fun compared to David Harewood's successful rendering the first time, with a few grunts and nods. Actually seeing the mission feels superfluous, even if it was a setup for the new arc to find Jeremiah, whom J'onn discovers is still alive in Project Cadmus.
Plots and character histories aside, "Manhunter" channels topical themes that dominate the Presidential election circus. No, Supergirl doesn't inspire you to vote for Bernie, but it does turn a vision of Trump's America — one of keywords like "aliens" and "refugees" — into something unpleasant. It's not the first time Supergirl or any of the DC shows have referenced politics, but it's especially poignant this week, when that other guy in the red cape is fighting a similar battle.