BART Tweet Is Painfully Self-Aware About Delays: "This Is Our Reality"
Any change to BART will be slow-coming.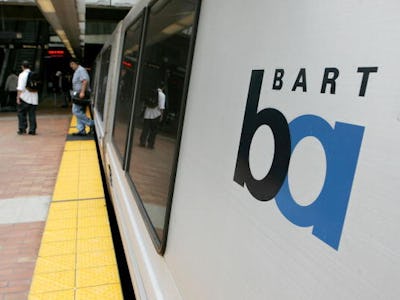 Justin Sullivan/Getty Images
On Wednesday night, whoever runs the San Francisco Bay Area Rapid Transit (BART) Twitter feed got real with a customer complaining about the beleaguered, overused transit system: "BART was built to transport far fewer people, and much of our system has reached the end of its useful life. This is our reality."
The public train system that connects San Francisco with cities in the East Bay and suburbs in northern San Mateo County was experiencing major delays all day Wednesday, and commuters had had enough.
Crewmembers reported major problems at 9:30 a.m. that morning and ended up taking 25 BART cars off the tracks, causing significant delays.
The agency also apologized on Twitter, informing everyone that they were "working on it." The tweet just fed grumpy commuters' anger, one replying that they have "come to expect rush-hour equipment problems and train delays from you."
What BART did next was a bit unexpected and probably empowering to the person tasked with overseeing the Twitter account for BART, maybe the most thankless job to exist in American public transportation:
"This is our reality."
It's true, the heavy rail system is pretty old. Engineers proposed the BART system back in the late 1960s.
But, the Future BART Project website doesn't offer much in the way of specifics for frustrated Bay Area residents looking for answers:
"Future BART is an effort to begin mapping out the future of BART. BART is now 40 years old, and requires significant system reinvestment to continue to provide high quality service. In addition, the region will change and grow significantly over the next 40 years. This effort will explore the tradeoffs involved in considering how BART can meet those dual challenges.
The agency says it's trying to update the system to "BART Metro," a concept proposed by the Regional Rail Plan for the Bay Area in 2007. BART Metro sounds similar to New York City's metro system, where there would be different lines (some that would be express lines) so riders don't have to rely on the one track in operation today that makes every stop. BART has only just completed the first study, and hopes to start development in the next five to ten years.
Currently, there are more than 7.5 million people living in the Bay Area. Between its nine counties, the Bay Area grew by an estimated 100,000 people from 2013 to 2014 — a population increase of 1.3 percent. BART is the fifth-busiest heavy rail rapid transit system in the United States as it transports more than 420,000 passengers per day.
As far as today, it looks like Bay Area commuters will just have to settle for the bus.