With Eats, Uber Just Did a Cannonball Into the Food Delivery Pool
Uber wants to eat other apps for lunch.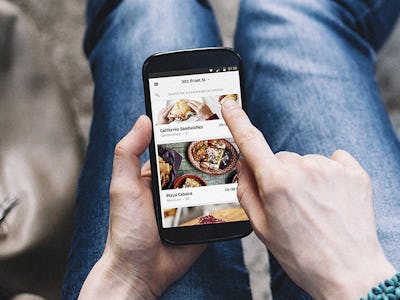 Uber
Confession time: One of my guilty pleasures is ordering food on delivery apps and websites. From Seamless to the quirky lunch app Arcade, I have given quite a number of obtuse and popular food delivery apps a go. And today, I eagerly downloaded yet another app to my phone, Uber Eats, because Uber's new food-delivery business is rolling out to several American cities this week.
For the tiny companies already offering app-based food delivery, it's a day of reckoning. Uber is massive. Uber wants to deliver everything. And Eats is just one tentacle.
And today, the the app made its debut on iPhones and Android devices, with Uber users in Chicago, Houston, Los Angeles, and San Francisco. If you don't live there, just download the app anyway and Uber promises it will alert you when Eats descends on your city:
Other cities that can expect to see Uber Eats as soon as next week are Atlanta, Austin, Dallas, Melbourne, Paris, Seattle, Washington, D.C., and yes, the world capital for delivery: New York City.
So far, it's been a love story for some users:
Others were left hungry for a better experience:
In 2014, developers wanted to make Uber Eats into a feature in the existing Uber car-service app, where you would toggle over to Uber Eats like you do to select UberBLACK, uberT, POOL, and UberX. However, the company decided to make UberEATS a standalone app because "requesting a ride and ordering a meal are two very different experiences," explained the company. "They both deserve a home." Uber began testing the Eats in Toronto back in December, and launched a limited lunch program in San Francisco in August. Today, the SF program expanded, as Eats began offering all-day delivery from more than 100 restaurants.
The app syncs up with existing Uber accounts and right now, UberEATS is waiving the delivery fees, but it will eventually charge a flat $5 — similar to Postmates, which offers the same service and a $4.99 delivery fee. Caviar, probably best-known for delivering food from "America's best independent restaurants" (read: maybe a little more expensive), charges fees between $1.99 and $6.99. Another delivery service, DoorDash, charges between $2 and $3 per delivery.
Uber is much, much bigger than any of its new competitors, though. It doesn't release customer numbers, but the company announced in December it had surpassed a billion rides. It also boasted more than 400,000 active drivers in a survey report released in December.
"In the same way Uber makes it easy to get from A to B, Uber Eats makes it easy to get food from the best restaurants in your city. Because an Uber driver is never more than a few minutes away, as soon as the food's ready it's on its way," said Jason Droege, the head of Uber Everything.
Here's how Uber Eats works for those 400,000 drivers: They will carry special insulated food delivery bags and be paid the same time and distance rates as they would if they were carting around people from place to place. Just like a trip from the airport, it's better for an Uber driver to deliver a meal from across the city than from across the neighborhood. For customers, it's going to be just that $5 fee, for now, anyway.
Uber's expansion into the food delivery industry isn't surprising: In December 2015, Uber announced that it is also working on Uber Hop which is a ride-sharing, bus-like service that some food truck vendors hope will bring them more business. Other companies are catching the trend, too: Amazon began adding restaurant delivery to its Amazon Prime Now service back in August 2015 and has been adding new cities since.
Food delivery apps have a large market. Fifty-eight percent of New Yorkers' meals come from restaurants — takeout or dining in — while the average number of times Americans eat out is 4.5 times per week. Uber's net worth is now $64.5 billion. In 2014, the company recorded 1 million trips each day and delivered 140 million rides that year.