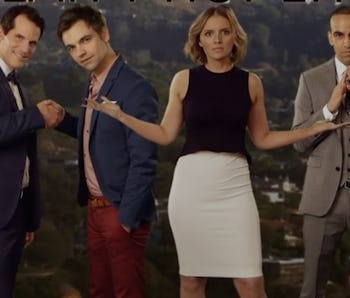 Entertainment
'Bajillion Dollar Propertie$' Is a Perfect Fit for Seeso
NBC's comedic streaming platform is embracing the weird and wild. 
Seeso
Does the world need another reality show? Probably not, but the world does need as many savagely satirical takes on reality shows as possible, that's for sure. It's that exact thought that drives Bajillion Dollar Propertie$, a new comedy created and executive-produced by comedian Kulap Vilaysack, which premieres Thursday on NBC's streaming comedy channel, Seeso .
Set among the ubiquitously ridiculous world of impossibly bespoke L.A. real estate agents, Bajillion Dollar Propertie$ perfectly lampoons reality shows like Million Dollar Listing or Selling New York — and their vapid casts of characters. It's the type of humor that may help nascent Seeso to define its comedy-based role in a world of endless streaming options.
Too high-concept for a YouTube show and too niche for comedy cable Meccas like Comedy Central or IFC, Bajillion Dollar Propertie$ succeeds because it embraces its absurdity while earnestly presenting itself as a reality show. From the improbably bad house music soundtrack, to the overly dramatic sound effect design, to the trumped up drama of making something out of nothing, Bajillion Dollar Propertie$ could easily fool someone's mom into thinking it was an actual reality show — if it weren't for the streaming method, that is.
That's because you won't find it while channel surfing past Bravo or E! in your cable package. Launched in January and priced at $3.99 per month, Seeso is a masterclass in comedy, but you don't have to leave home or go to school. While its content is joined by hilarious classics like Monty Python's Flying Circus, Saturday Night Live, and The Kids in the Hall, it's also trying to shape originals, Bajillion Dollar Properties$ among them.
It's a genius move because it's essentially self-perpetuating. Seeso is the only platform where you'll find comedically daring and angular content; shows like Bajillion Dollar Propertie$ can really only flourish on progressive networks like Seeso.
But the show should resonate, in part, because it's rounded out by a murderer's row of alt-comedy all stars, no doubt priviledged by their relation to Bajillion Executive Producer Scott Aukerman's podcast network, Earwolf, or, more specifically, the absurd and bizarre character creations from Aukerman's popular Comedy Bang! Bang! podcast.
All of the actual archetypes in these sorts of reality shows are there: the overachiever, the kiss-ass, the underdog, the social media snob, and the inseparable and annoying twins. But they're all animated by comedians like Paul F. Tompkins, Ryan Gaul, Mandell Maughan, Tawny Newsome, Drew Tarver, and Tim Baltz to show that fact is stranger — but not funnier — than fiction.
Bajillion Dollar Propertie$ is like a New York comedy expat's fever dream: trying to make sense of how absurd LA culture is, with its chi-chi restaurants and vapid locales. And it's only further aided by the guest stars. Former Parks and Recreation star Adam Scott shows up in the first episode, decked out as the best send-up of a perpetually wasted LA bro-douchebag quite possibly ever.
If the show itself is any indication, Seeso is embracing the right comedic voices in the right unique projects. Satirical reality shows are nothing new. Burning Love, the send up of ABC's The Bachelor premiered on the now defunct Yahoo Screen, while the Real Housewives spoof Hotwives of Orlando plays on Hulu. Yes, Bajillion Dollar Propertie$ is more of the same, but its status on Seeso puts it in the enviable position of spearheading a new branch of online streaming content. It's up to Bajillion Dollar Propertie$ and other Seeso originals to help you decide whether to buy or sell. And we say buy.
The cast of Bajillion Dollar Propertie$ — including Tompkins, Tarver, Maughan, Gaul, Newsome, and executive producers Aukerman and Vilaysack — will perform at a comedy event at Esther's Follies on March 12 during SXSW, while Bajillion Dollar Propertie$ will premiere Thursday on Seeso.