Obama Says "The Government Can't Just Willy-Nilly Into People's iPhones"
At SXSW the U.S. President addresses privacy in our connected world.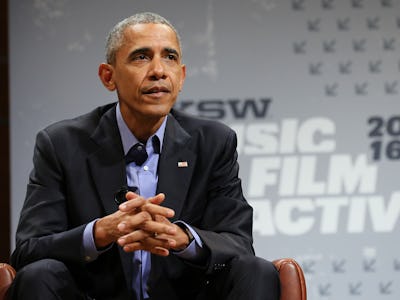 Neilson Barnard
Today at the South by Southwest music, film, and technology conference in Austin, Texas, President Barack Obama said the federal government "can't just willy-nilly into people's iPhones."
Speaking to the tech-focused crowd on the first day of the tech-portion of the conference, "SXSW Interactive," he said that Americans should have their privacy, but that there needs to be an understanding of when the government should intervene.
Much of Obama's keynote was spent in a rushed flurry since he stepped out on the stage about a half-hour late. When Evan Smith of the Texas Tribune asked about the latest FBI vs. Apple case (where the government has been perceived as the enemy, Smith added), Obama slowed his approach. While he said he couldn't comment on a specific case, he did offer his opinion on the issue:
"All of us value our privacy and this is a society build on a constitution and bill of rights and has a healthy skepticism about overreaching government power," he said.
"Before smartphones were invented, and to this day, if there is probable cause to think someone has abducted a child, or is engaging in a terrorist plot, or engaging in a serious crime, law enforcement can get a warrant and go into your home and rifle through your underwear to look for evidence of wrong-doing."
He later goes on to say that it's an issue if encryption is made so strong that there's no key or door.
If information that can assist an investigation on serious crimes is locked away on phones, "there needs to be some concession to get into that information somehow," he said.
Obama's appearance took place at Dell Hall at the Long Center in Austin and was live-streamed by organizers of South by Southwest, which is marking its 30th year. Announced on March 2, his appearance comes before First Lady Michelle Obama's SXSW visit on March 15. She will spread awareness about the Let Girls Learn initiative.