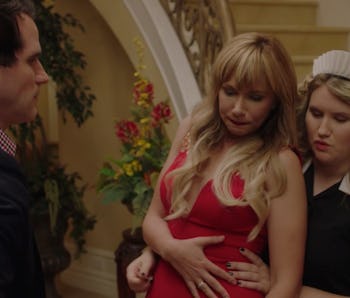 Entertainment
'Idiotsitter' and the Struggle of Getting Over Your Ex
Gene comes up with a plan to get back at Billie's ex, which has all the show's characters playing different people. 
Comedy Central/Idiotsitter
The first season of Comedy Central's Idiotsitter has tried its hand at plenty of clichéd story lines, but the screwball, immature comedy saves the series from taking itself too seriously.
To name a few examples: when a hot guy comes between Billie and Gene; an episode that features a stereotypical prom story line; and a sequence that shows a child meeting her biological mother for the first time. Last night's episode "Ex-Boyfriend" ran with the tried and true ex-boyfriend trope in a million unexpected directions, as the show often does. When Billie (regretfully) invites her ex to dinner at the mansion, Gene devises a plan to make him jealous, which requires that all the characters in this episode assume different personalities.
After the break up (and her boyfriend's extreme success as an author), Billie wants to radiate the impression that she's doing incredibly well — not that she is the live-in nanny to a misbehaved woman-child. At this point, the series has established that Billie and Gene are quite similar; Billie has continously proven she is just as idiotic as Gene. The result is a best friend dynamic, rather than a babysitter-babysittee power struggle, which makes Gene protective of Billie. So Gene hatches the final plan: Billie will pretend the mansion is hers and Gene is her employee, all to create the illusion of extreme opulence and success.
Billie's impersonation of a grossly rich person draws from the flustered, skittish, and comedic approach she takes in nearly every episode. Although Billie is playing a different character, her nerves and inability to act casually belie her act as a well-to-do single woman who owns a mansion and a boat company. Gene, on the other hand, finds a new world of comedic opportunity in her role as the pretentious maid. She serves Billie and the ex her own take on tuna tartare — which is just two opened cans of raw tuna — and she makes Billie's ex increasingly uncomfortable, unable to suppress her horny tendencies. She propels the plot forward by inviting a white guy with dreadlocks to the house, who is crucial in the development of her plan — although Billie doesn't know that.
Gene forgot to mention one major element of her plan: Her friend with the dreadlocks — "White Marley" — would pretend to hold the three of them hostage, scaring Billie's ex so badly that he is forced to admit that he's not a wealthy, well-known author, but floundering rut like Billie. With Billie's ex pretending to be an affluent author and White Marley tricking the guest into believing he's robbing the place, that makes four people who are playing different characters. The plan works perfectly, even if Billie has no idea that the hostage situation is a ruse. This scenario gives Idiotsitter's cast the opportunity to expand their comedic reach. With an over-the-top depiction of the measures people may take to inspire jealousy, this episode of Idiotsitter wants you to feel better about your exes, and suggests they are probably going through their own shit too.