Loretta Lynch Backs Up the FBI's Case Vs Apple on Stephen Colbert
Loretta Lynch says Apple should "do what their customer wants."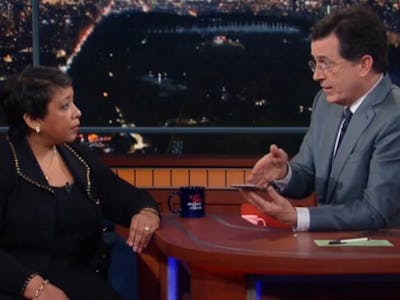 NBC/ Late Show with Stephen Colbert
Attorney General Loretta Lynch went on the Late Show With Stephen Colbert Thursday night and urged Apple to help unlock an iPhone connected to the San Bernardino shootings.
"We're asking them to do what their [sic] customer wants," she said, making the case that the phone in question belongs to San Bernardino County Department of Public Health, which employed one of the two shooters. "It's very narrow and it's very focused."
Apple maintains that disabling the password lock function, which erases data on the phone if there are too many incorrect passcode attempts, would create a critical security flaw in its system and compromise its customer's digital security. Apple CEO Tim Cook has adamantly refused the FBI's demands.
Victims of the San Bernardino shootings, a terrorist attack that killed 14 and injured 22, want Apple to unlock the phone, but the majority of the tech community disagrees, fearing that the case could establish a dangerous precedent that could leave other companies open to compromising demands from the government.
"We've disagreed publicly in court, and I have had a number of great conversations with Tim Cook on issues of privacy," Lynch told Colbert. "What I will say about this is, I understand why this is important to everybody because privacy is an important issue for everyone. It's important to me as the attorney general. It's important to me as a citizen."
"We are not asking for a backdoor, nor are we asking him to turn anything on to spy on anyone," Lynch said. The FBI claims that Apple is the only entity that can unlock the shooter's iPhone (which may not matter anyway), something NSA whistleblower Edward Snowden has publicly called bullshit on.
"The FBI says Apple has the 'exclusive technical means' to unlock the phone. Respectfully, that's bullshit," Snowden said via video link to the Common Cause Blueprint for a Great Democracy conference.
Lynch is in the middle of a self-admitted outreach tour around the country, attempting to improve community relationships with and attitudes toward law enforcement around the country. If that doesn't solve all her problems, she can always call John McAfee for help on the iPhone case.