Oscar-Nominated Actor Gary Busey Joins the Cast of Syfy's *Sharknado 4*
It's a match so perfect we can't believe we didn't see it coming.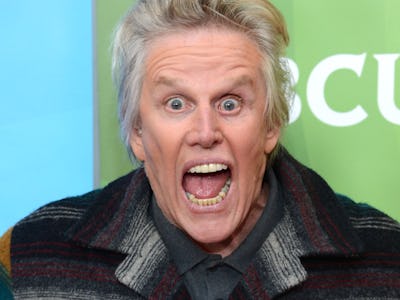 Getty Images/ Jason Kempin
Gary Busey, Oscar-nominated actor and star of every eighties and nineties cult classic you can think of, has joined the cast of Syfy's inexplicable, inevitable, probably unstoppable Sharknado 4.
The meteorological, shark-filled, reality-defying phenomenon that is the Sharknado series can't be stopped. It's been called (by this publication!), "repetitious, accessible schlock" and "implausible, violent, and incoherent." But a little bit like Donald Trump's presidential campaign, Sharknado can't be stopped, and we might just deserve it. Gary Busey is just here to ride the shark-infested wave, man.
Busey joins David Hasselhoff, Tara Reid, Cheryl Tiegs, and Ian Ziering as part of the core cast. He'll play Tara Reid's father, of course, because Gary Busey as a movie father-figure is never going to be a bad choice.
Sharknado 4 does not have an official title, but we can imagine that whatever it is, it won't add much to Syfy's burgeoning rebranding efforts. Not that we're complaining, if it gives us more realistic scenes of common public transit struggles, like this:
At this rate, Sharknado films are becoming a yearly occurrence, which isn't the worst annual tradition in show business (subtle institutional racism during awards season probably takes that cake). The new film, which will probably get an awesome title like Sharknado 4: The Sharkocalypse or Sharknado 4: Maria Sharkapova or even Sharknado 4: The Unbearable Sharkness of Being, is due to be released in July.