Bankroll Fresh, Atlanta's Rising Star Gone Too Soon
The 28-year-old rapper was one of his city's most promising talents, supported and beloved by hip-hop lumaries T.I., 2 Chainz, Metro Boomin, Gucci Mane and Zaytoven, among others.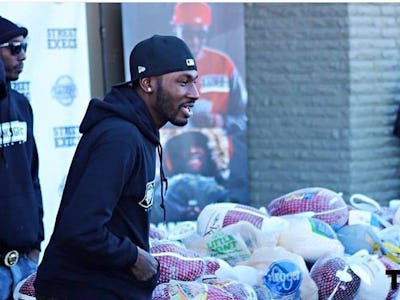 BankrollFresh1/Facebook
Atlanta rapper Bankroll Fresh, born Trentavious White, was shot and killed this weekend in a studio in the northwest area of Atlanta. He was 28 years old. White's murder comes at the height of his popularity as a rapper, which was hard-earned after years of struggling on the mixtape circuit: For nearly a decade, he was just a local hero in Atlanta.
His fast rhymes were propelled by a practiced swagger, gruff intonation and breathless energy. Often lumped into the extended ranks of trap rappers that blossomed in the wake of Gucci Mane and Waka Flocka Flame's success at the turn of the last decade, Fresh was actually put on by Gucci prior to the release of Waka's breakthrough 2010 album Flockaveli. In a Complex interview conducted this weekend, longtime Atlanta producer Zaytoven — who was close with Fresh and helped him link up with Gucci Mane — confirmed that he had been aware of Fresh since 2006.
Bankroll Fresh was well-connected in the Atlanta community, so his recent music featured all-star production talent from the likes of Metro Boomin and Zaytoven. He was also signed to fellow Atlantan 2 Chainz's label, The Real University. While 2014's "Hot Boy" was Bankroll's first nationally scaled hit, the success of "Walked In" last year — primarily through teenager-made dance videos — increased his profile significantly.
His unusually polished November self-titled mixtape made a strong case, even above his numerous other solo and collaborative releases, that Fresh was approaching a status as the next great Atlanta artist. In a city whose hip-hop scene is veritably waning in terms of staggering new talent and original voices, Fresh's confident voice and unbridled expressivity stood out. Read an article we published at Inverse in December, about the promise of Bankroll's 2015 music.
Those who had musical relationships with Bankroll Fresh were quick to speak . The most emotional outpouring came from Metro Boomin, a close friend of Fresh's:
ATL legend T.I., who lost his own protege Doe B in 2013 in a shooting, also expressed his regret and anger:
Given that his future has been so crudely and tragically taken away, let's revisit some of Bankroll's best music. To end with a quote from Zaytoven:
"I want his music to live on, but at the same time be an example to all the up-and-coming young guys that might be in the streets or get hot-headed or get in confrontations or shoot or fight a lot. Remember Bankroll Fresh, because that's a senseless death. It's no reason you should go out and die over something that's probably over nothing, and you had such a great talent and such a bright future. I definitely want him to be remembered in that sense."
Here's a Zaytoven-helmed 2013 Fresh track:
His breakthrough song:
His biggest viral hit:
Young trap n-gga, soon I'ma get a maid/I used to have roaches in my cereal, I couldn't eat:
A few excellent songs from his mixtapes: