Marvel's New Punisher Is Keeping the Skull and Trench Coat in 'Daredevil'
A vigilante, a ninja, and a guy with a skull on his chest walk into a bar...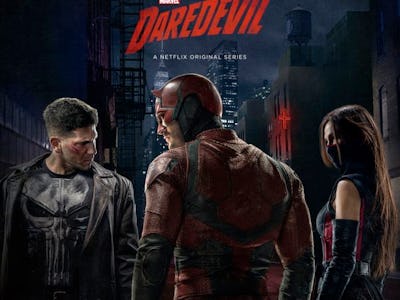 Netflix
Casting The Walking Dead alum Jon Bernthal as Frank Castle, aka The Punisher in Season 2 of Marvel's Daredevil seemed like an inspired choice. But the latest trailers and promotion for the show, releasing on Netflix March 18, looked as if Bernthal's Punisher was ditching the classic skull emblem and black trench coat look from the comic books. Fortunately, he's not.
A new tweet on the Daredevil Twitter page showed off the latest costumes of Daredevil, Punisher, and Elektra (Elodie Yung). The show's attempt at grit, like a superhero version of The Wire, comes out in their costumes so all three of them are dressed in dark padded leather. But standing together, they still look like they're in Halloween costumes, which is a good thing. I like it when superhero costumes embrace their cheesier flavors.
It's just a costume, but with a character like the Punisher a comic book-y costume is necessary to separate him from other gun crazy anti-heroes. Punisher's look isn't much, it's just black on black and a spray-painted white skull, but that's the look that makes him "The Punisher." I was getting worried when everything we've seen thus far of Frank Castle was anything except that, but this confirms it: We're getting the Punisher we know best.
Marvel's Daredevil premieres March 18 on Netflix.