California D.A. Posits Existence of "Dormant Cyber Pathogen" on San Bernardino iPhone
Security experts around the planet are scratching their heads.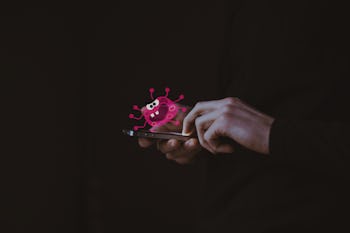 Unsplash / Pixabay / Photo Illustration
On Thursday, a conglomerate of major tech companies filed an amicus brief in support of Apple in its case against the FBI, adding to an already impressive list of major Apple supporters. On Friday, San Bernardino District Attorney Michael A. Ramos and Chief Deputy District Attorney Gary R. Fagan filed an application to serve as a friend of the government. The D.A. hopes to express his belief, in court, that the order compelling Apple to assist the FBI with gaining entry should stand.
Most of those in the know, at least on Apple's side, admit that there's a low probability of anything being on the iPhone. Despite all the hype, what little data there may be on the iPhone is probably irrelevant: the shooters destroyed their personal phones and computers; this iPhone was a work phone; the government can likely already access relevant information through data carriers, etc.
But now Michael A. Ramos and Gary R. Fagan are calling that perfectly sensible narrative into question. What if, they opine, the iPhone was "used as a weapon to introduce a lying dormant cyber pathogen"? (Emphasis added.)
Here's the full relevant paragraph explaining the most substantial reason for why Ramos and Fagan think the iPhone might be said to perhaps matter:
"The iPhone is a county owned telephone that may have connected to the San Bernardino County computer network. The seized IPhone [sic] may contain evidence that can only be found on the seized phone that it was used as a weapon to introduce a lying dormant cyber pathogen that endangers San Bernardino County's infrastructure, a violation of Cal. Penal Code §502 (Lexis 2016) and poses a continuing threat to the citizens of San Bernardino County."
The District Attorney's office in San Bernardino did not return Inverse's request for a comment explaining what a "lying dormant cyber pathogen" might be. (See the full amicus brief here.)
Twitter was both flabbergasted and much amused by these so-called cyber pathogens:
Ars Technica spoke with a Jonathan Zdziarski, a "prominent iPhone security expert" — who also now owns the domain cyberpathogen.com. Zdziarski echoed these claims of absurdity, saying that the amicus brief implies a "magical unicorn might exist on this phone."
"'The world has never seen what he is describing coming from an iPhone,' Zdziarski said. 'I would expect, I would demand, in order to make that statement at all, he should make some kind of proof.'"