Fox Drops 'Gambit,' Will Probably Make 'Deadpool 2' and 'X-Force' Instead
Channing Tatum loses and Ryan Reynolds wins. It's a cruel, cruel world.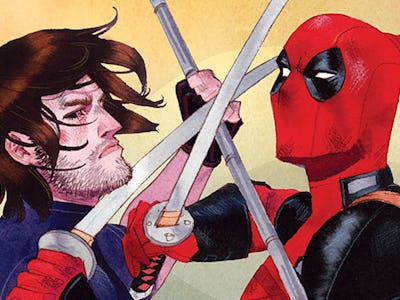 Marvel
Sorry, Gambit, people like Deadpool way better now.
BoxOffice.com is reporting that Fox has pushed actor Channing Tatum's long-in-development Gambit standalone movie from its original release date of October 7, 2016, delaying the movie indefinitely. This follows on a long list of production woes for Tatum's movie, which previously saw original director Rupert Wyatt exit the project and Edge of Tomorrow director Doug Liman stepping in late last year. In its place, Fox has scheduled two unnamed Marvel projects to be released on October 6, 2017 (a year after Gambit's rapidly approaching former release date) and January 12, 2018.
So what are these two mystery Marvel movies? Fox is staying mum on the details so far, and it's possible that the studio could just be delaying Gambit for a year so Liman and Tatum can get things in order, but the runaway success of the studio's Deadpool movie offers some obvious hints at what Fox is up to.
January is normally a dumping ground for terrible movies that studios don't know what to do with, but if Deadpool's February release taught us anything, it's that all summer movie blockbuster guarantees are off. Fox might be hedging their bets that studios will still emphasize the summer months and leave the early months free, making it a perfect opportunity for them to proliferate their newly successful new Marvel universe with something like an X-Force movie. X-Force, a kind of minor league X-Men group whose ranks include Deadpool himself, is just the kind of franchise starter Fox needs.
It also looks like the creative team behind Deadpool are on board for a potential X-Force project. Screenwriter Paul Wernick told The Playlist that he and co-screenwriter Rhett Reese "will have a hand in it," and that "I think everything that Deadpool is involved in we will have a hand in and it's a universe that Ryan [Reynolds] and us are very close to and very protective of, so I do think we would absolutely involved in that franchise as well." He finished by telling them, "If it's Deadpool related, I think you'll see some of our fingerprints on that."
Wernick and Reese have already gone on the record saying they're currently writing the Deadpool sequel, so it makes sense that Fox would want to capitalize on the success by pushing a sequel out for the newly opened October 2017 slot. Reynolds still hasn't confirmed his involvement, but given the fact that Deadpool was his own dream project that made some serious box office bank as well as a whole lot of personal cash for the actor, there's no doubt that he'd want to return.
For now, it looks like the only thing that's a given is that we won't see Tatum spouting off one-liners with a Creole accent in Gambit anytime soon. As for the rest, Deadpool's success makes anything possible.