Mark Zuckerberg "Supports" Apple While Admitting Facebook's Leniency
How much is Facebook willing to cooperate with the government?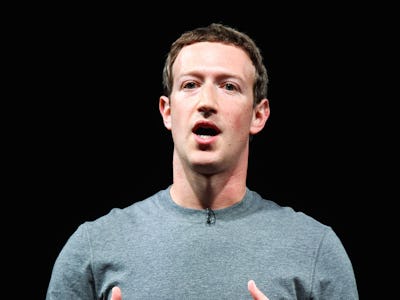 Getty Images
Mark Zuckerberg hedged for a moment today when asked about his opinions on Tim Cook and Apple's battle with the FBI over encryption before his admission: "We're sympathetic with Apple on this one." He elaborated, though, and in that elaboration admitted that Facebook was more lenient with respect to granting government access. Facebook, Zuck says, has "a responsibility to help prevent terrorism." Any content that promotes terrorism or is "sympathizing with ISIS" will be eliminated.
At a Mobile World Congress keynote interview today in Barcelona — which, for the full scoop, look no further than here — Wired's Jessi Hempel peppered Zuckerberg with a variety of questions, including that of Apple's situation. It comes down to this: Zuckerberg doesn't think the government's solution — back doors, which turn into back screen doors, which turn into screw it who needs a door anyway — is an adequate solution.
"I don't think that requiring back doors is going to be effective in increasing safety," he said. Plus, internet users will continue to find new ways to encrypt — no matter how often tech companies cooperate with the government.
And even though all of this hubbub is about an iPhone that may not even matter, it's good to see Zuck voice his support of Tim Cook. However noncommittal and fence-sitter-ish said support may be.
After all, this is a war for precedent, and the security of your digital fingerprints is at stake.
Plus, Zuck's been answering these sorts of questions for a few years:
For Facebook's official policies, look here; also, be aware that this page exists.