Marvel's 'Agents of S.H.I.E.L.D.' Casts Natalia Cordova-Buckley as Slingshot
Marvel adds one more Inhuman to its primetime ABC series.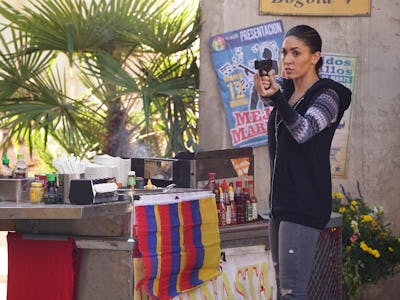 Disney ABC
A new superhuman speedster is running into the Marvel Universe, and it isn't Quicksilver.
According to ComicBook, Mexican actress Natalia Cordova-Buckley has been cast as Elena "Yo-Yo" Rodriguez, aka Slingshot for an upcoming recurring role in Marvel's Agents of S.H.I.E.L.D.
Slingshot is described in the series as "a street-wise Colombian woman given Inhuman abilities." Her character is a slight change from the Puerto Rican, non-Inhuman Slingshot in Marvel's Secret Warriors comic series created by Brian Michael Bendis.
Yo-Yo's "Slingshot" superhero name comes from her super speed ability, as well as the bonus of snapping back to where she came from — hence, Slingshot. In Secret Warriors, she was recruited into Nick Fury's Catepillars, a secret team unknown to the rest of S.H.I.E.L.D. that he personally grooms and trains into full-fledged agents. With Nick Fury's appearance in the series a rarity, Phil Coulson will likely take up the role of Yo-Yo's mentor in the TV series.
Marvel's Agents of S.H.I.E.L.D. will return March 8 to ABC. The return episode, "Bouncing Back," will continue Coulson's journey to end Hydra once and for all. Below is her first look in the series.