'Pee-Wee's Big Holiday' Trailer is Out as Netflix Continues to Mine the '90s
Pee-Wee's new adventure comes out in March. ¯\_(ツ)_/¯.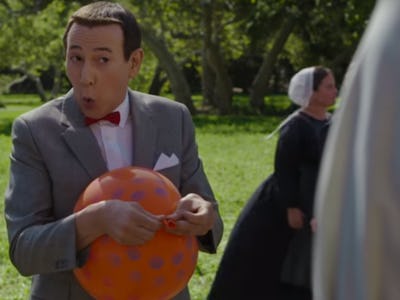 The first Pee-Wee Herman vehicle since 2011's Broadway run finally comes out in March, ending about a decade of speculation about whether a new movie would ever be released. Now, it's imminent — perhaps the banner release for the streaming company's aggressive actions to remember the '90s.
In the trailer, Pee-Wee meets up with a mysterious stranger who puts the idea in Pee-Wee's head that he's gotta fly the coop, hit the lam, scram!, you see. Wackiness ensues; Pee-Wee finds himself in a number of predicaments in Amish country, the American South, all over. Given that Pee-Wee creator Paul Reubens has allegedly been working on scripts since the early 2000s, relief is ahead for the hypothetical audience that has been left in the lurch all of this time. The film also stars Alia Shawkat and David Arquette and is directed by Wonder Showzen creator John Lee (and definitely not by Tim Burton, who directed the 1985 movie).
What other sorts of hijinks will this relic that millennial cord-cutters probably can't even remember get into? Find out March 16.