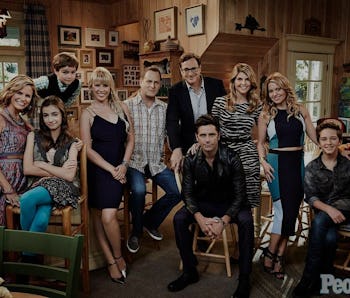 Entertainment
Netflix Hopes You Remember 'Full House' in New 'Fuller House' Featurette
The streaming service's new show is banking big on nostalgia.
www.facebook.com/FullHouseSequel
You remember Full House, right? RIGHT!? For the love of god, please say you remember it. That's the message we get from a new featurette released by Netflix for its update of the seminal '90s sitcom, now rebranded as Fuller House.
Fuller House, because there are more characters (though the Olsen Twins have bounced). Oh, and D.J.Tanner married some guy whose last name is Fuller so now she's D.J. Tanner-Fuller. It's a mouthful.
Netflix pours on the nostalgia in this new two-minute clip of the original actors waxing poetic about what it means to be coming back to their impossibly large San Francisco town house, 20 years after going off-air.
"Ladies and gentleman, 30 years in the making: Fuller House!" screams an announcer to the raucous applause and canned laughter of a live studio audience. Cue John Stamos asking if everybody is having fun ("Is everybody having fun?"), while the cast repeats the show's "How rude" and "Have mercy" catch-phrases.
Bob Saget, a dude who's spent every waking hour of his post-Full House career trying to make everyone think he isn't Danny Tanner, says, "We still got it!"
It's brilliant.
First came the unsettling person-free teaser, which functions perfectly when recut as a horror movie teaser.
Then there was the pure-WTF-ness of a 30-second clip of actresses Candace Cameron Bure, Jodie Sweetin, and Andrea Barber doing the Nae Nae, because Netflix must have thought, "Well, we need to make sure people know this new show takes place now, so what are the kids into these days?"
But for all the sarcasm, Netflix is doing something smart with Fuller House. With the Mount Everest-sized amounts of original programming it's announced, the digital network tapping into the brand recognition and nostalgia will all but guarantee everything their binge-ready audience can eat up in 22-minute portions.
Look forward to reacquainting yourself with the Tanner family when Fuller House debuts on February 26, 2016 — only on Netflix.