Here's Why the Long-Delayed Pee-wee Herman Netflix Movie Wasn't Actually Delayed
Paul Reubens and his iconic character will finally return on March 18 in 'Pee-wee's in 'Pee-wee's Big Holiday.'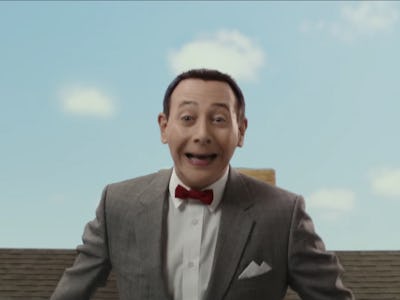 YouTube
Last week we learned that producer Judd Apatow's new show Love would premiere February 19 on Netflix, and now comes word that another long-gestating Apatow passion project is set to debut on the streaming service a month later.
Netflix just dropped a teaser for Pee-wee's Big Holiday, actor Paul Reubens' first Pee-wee Herman movie in 28 years that was originally set up at Universal in 2010 to be produced by Apatow and co-written by comedian Paul Rust (who also appears in Love). After a lengthy development process at the Hollywood studio that culminated in Netflix picking up the movie last year with Apatow, Rust, Reubens, and first-time director John Lee in tow, the movie will now premiere on March 18.
Given the current potential for Netflix and Kickstarter and other nostalgia-hungry outlets to resurrect any beloved movie or TV show from your childhood, this should come as no surprise. But the new Pee-wee movie seems to have preceded a lot of seemingly shameless resurrected pieces of throwback entertainment.
Reubens addressed the length of time between the initial announcement of the project and the movie's impending release to the AVClub in late 2014, saying:
"I think part of what happened with this project is it got leaked probably a year and a half or two years before we really wanted anyone to know about it. I was doing a Q&A somewhere, and I said I was writing a movie with a guy named Paul Rust, and the next day a journalist called my manager and said, "Paul Rust is someone very associated with Judd Apatow, can you confirm Judd Apatow is involved in the project?" The whole thing got leaked and we had just started. We didn't have a script yet or anything, so the script took a year and — I don't really know the answer. I think two years of it was like premature information out there, and then the last two years it's just been very, very slow to get the right people involved, and we now have such an amazing company involved, and that's the really big announcement that hasn't been made yet."
Big Holiday will be the first Pee-wee movie in nearly three decades since Big Top Pee-wee was released in 1988, though going by the scant plot synopsis provided by Netflix — "A fateful meeting with a mysterious stranger inspires Pee-wee Herman to take his first-ever holiday in this epic story of friendship and destiny" — it seems like the new movie will be a sort of soft reboot of director Tim Burton's beloved 1985 Pee-wee original, Pee-wee's Big Adventure. The grey-suited and red bow-tied character's adventures haven't ever really been overly complex, Big Adventure was about the character traversing America to dance to "Tequila" in a biker bar and look for his missing bike, so expect more of the same childlike antics in Big Holiday.
The new movie will star Reubens, Joe Manganiello, Jessica Pohly, Alia Shawkat, Stephanie Beatriz and, fingers crossed, a whole bunch of cameos that hopefully include Laurence Fishburne as Cowboy Curtis.
In the meantime, catch up on Big Adventure and five whole seasons of Pee-wee's Playhouse on Netflix right now.