'Daredevil' Season 2 Trailer Shows an Unhinged Jon Bernthal as the Punisher
'The Walking Dead' alum is leaving his mark in the Marvel Universe.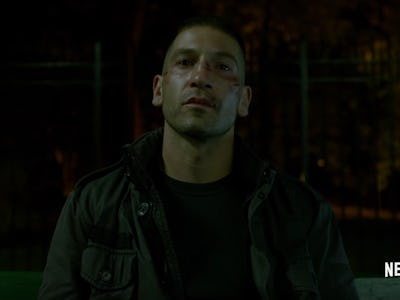 Netflix
Frank Castle is about to blow up Hell's Kitchen.
Marvel's gun-toting vigilante the Punisher is making his debut into the Marvel Cinematic Universe in this upcoming second season of Daredevil, premiering March 18 on Netflix. In the new full-length trailer released online, The Walking Dead alum Jon Bernthal shines as Frank Castle, playing him exactly as the unhinged and absolutely dangerous maniac he's supposed to be. Everyone knew Bernthal was inspired casting, and this trailer just proves it.
While previous incarnations of Punisher, like the 2004 movie The Punisher and 2008's Punisher: War Zone glorified his violent methods, Marvel's Daredevil is taking a much more careful, and, in my opinion. absolutely necessary approach.
Like Watchmen, The Dark Knight, and, to a lesser extent, Arrow, Daredevil is using Punisher to explore vigilantism and the actual morally gray place mainstream superheroes occupy. It's also taking a cue from Nolan's Dark Knight Trilogy, positioning Daredevil as a lightning rod who may have done worse in attracting Hell's Kitchen's freaks like Punisher out of hiding.
Elodie Yung appears as Elektra only at the very end, but she will have a significant role in the show's second season. This trailer is all Punisher, all Bernthal being totally wacko and totally phenomenal.
There is a whole subsection of fanboys who fetishize antiheroes like Punisher or Red Hood. I hope they see Daredevil as a rude awakening for them. They're not usually fun to talk to at Comic Con.
Daredevil will premiere March 18 on Netflix.