"Big Bud Lil Bud" Was the Inspiration for 'Master of None'
A fun lil gift on the day of the Season 2 announcement.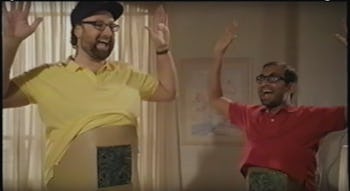 Lots of Master of None fans at Inverse are excited for today's announcement of Season 2 coming to Netflix. As a delightful extra treat, Eric Wareheim dropped "Big Bud Lil Bud" on his YouTube channel.
The show is a CBS pilot presentation for a laugh track sitcom about two best friends of differing sizes, and the hijinks they encounter while trying to eat bananas and talk to a friend that is a dog. There is also some kissing, a surprising robot twist, and everyone learns an important lesson.
Wareheim's role on Master of None was a surprising bit of straight-man acting from the notoriously over-the-top anti-comedy star. So watching Ansari dip into a bit of Wareheim's faded VHS nightmare comedy feels only fair. You can watch the entire, very real, pilot presentation below.
See? Doesn't that get you revved up for more emotionally complicated hot-pasta action? You can really see the origins of some of the more subtle narrative threads taking shape here. CBS must feel like fools for passing.
Season 2 of Master of None premieres in 2017. You can also see Aziz and Eric in this 2014 video: