What Does Netflix Want from Aziz Ansari's 'Master of None'
Think of the new show as a mashup of 'Orange is the New Black' and a corporate obsession with taking down network television.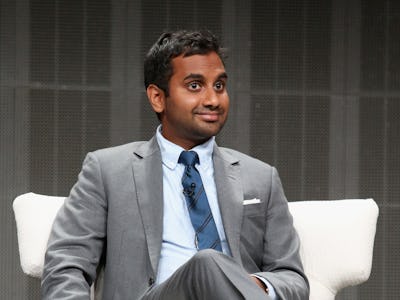 On Nov. 6, comedian Aziz Ansari will debut Master of None, his Netflix show. The series is meant to be semi-autobiographical — more in line with his standup than with his past acting choices. This is an interesting notion for Ansari, who has always been heavy on persona and quick to adopt a character. His schismatic, if ubiquitous, public presence could use something to orbit.
Ansari has mentioned that the show will include his actual parents playing his on-screen parents. So that slight level of meta-ness that made Ansari memorable on Parks and Rec won't be lost. But what's most notable about the show is what it isn't — on television. Master of None could have been a bright spot in a series defined by questionable programming choices and B-list actors turning in C-level performances.
The show doesn't sound groundbreaking, which, almost ironically, makes it groundbreaking for Netflix, a company that has to make a concentrated effort to get behind the curve. The fact that they have done just that — Ansari works broad — is indicative of ambition, not laziness. Sure, they're not building their own stars in-house, but they are building a bigger audience than BBC docs, and BoJack Horseman can afford them.
It doesn't hurt that Netflix all but owns the standup comedy space. HBO has remained relevant, but alt comedy just loves its streams (Louis CK aside). Ansari has done yeoman's work for the platform already and the fact that he is part of a community of successful comedic talkers and cameo artists doesn't hurt.
Ansari has claimed that the show was never intended for television, but this is a bit hard to buy given a premise ripped out of the FX playbook. Either way, it's going to move fans from NBC to online and that's all Netflix wants.