'Flaked' Trailer Shows Will Arnett's Fresh Start on Netflix
Arnett teamed up with 'Arrested Development' creator Mitch Hurwitz again, and this time it's serious.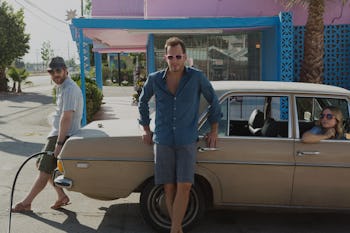 Netflix
This isn't an illusion. BoJack Horseman star Will Arnett has teamed up with Arrested Development creator Mitch Hurwitz for an eight-episode season of a dramedy called Flaked. Unfortunately, it is not a Gob Bluth spinoff, but a whole new series concocted by Arnett and co-creator Mark Chappell, who previously worked with the actor on the David Cross series The Increasingly Poor Decisions of Todd Margaret.
The show follows after a series of post-Arrested Development TV shows featuring Arnett like Up All Night, The Millers, Running Wilde, and probably some more you've never seen or heard of that were cancelled after short network TV runs.
All episodes of the first season of Flaked will premiere on Netflix on March 11, and it's just our luck that the streaming service has dropped a trailer for the series for our viewing pleasure.
But first, here's the synopsis:
"Flaked is the serio-comic story of Chip, a celebrated long-time resident of the insular world of Venice, California who falls for the object of his best friend's fascination. Soon the tangled web of half-truths and semi-bullshit that underpins his all-important image and sobriety begins to unravel. Will Arnett plays Chip, a man doing his honest best to stay one step ahead of his own lies."
It's basically Arnett doing a dour, dramatic/comedic Louie thing, and another in the list of Netflix shows that's something along the lines of: "White guy in a city is sad and needs to find himself via a series of half-comedic adventures."
"What are we doing here?" a character says at one point. Viewers of the trailer will most likely wonder the same thing, though Netflix has been churning out success after success, so we're willing to give Flaked a shot.
Binge till your heart can't take anymore when Flaked premieres on Netflix on March 11.