Twitter Burn of the Week: Todd Barry Serves Kanye
Maybe don't defend Bill Cosby publicly.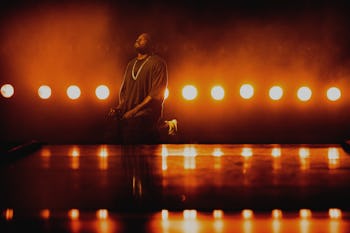 Getty Images
This week marks the release of Kanye West's latest, The Life of Pablo. (Nope, it didn't end up being Twerk, Ladies of Pasadena.) Leading up to its release, Kanye — also known as Conway — has been a busy guy: He's switched up Pablo's name a few times, beefed with Wiz, and — it seems like — defended Bill Cosby. His original tweet is here; suffice it that no one is more convinced of Bill Cosby's innocence than Kanye.
It ain't such a good look when more than 50 women have accused Cosby of sexual misconduct, assault, and rape. But Kanye does what Kanye wants and has continued his march forward — that tweet stands undeleted — planning a Madison Square Garden fashion show/unveiling of The Life of Pablo. When he tweeted out a seating chart for the event, comedian Todd Barry responded with the hot fire burn:
Oh mama. That's the stuff right there.