Will Bill Cosby Supporter Kanye West Reveal "Pablo" at His Yeezy Launch?
And do we care? Just get Season 3 and the new album out. Let's be done with this madness.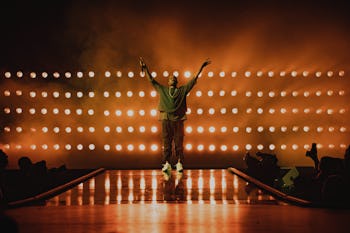 Kanye West, Pablo, Season 3 Yeezy, Album, Madison Square Garden
Tonight, Kanye's Yeezy Season 3 fashion show comes to NYC's most massive and prestigious venue, Madison Square Garden, which obviously means it's more than a Fashion Week event. We are presumably going to get the first listen-through to Kanye West's new album — now confirmed as The Life of Pablo — though I'm pretty skeptical that 'Ye will dare to be that straightforward in his presentation.
There will also be a performance by Vanessa Beecroft, an Italian artist known for elaborate performances, often with female models. One wonders if we'll actually be watching 45 minutes of Beecroft and 20-30 of Kanye music, for a troll or additional suspense-building before the album actually drops on Tidal or iTunes or independently or wherever tomorrow.
But the real question is: Will we finally learn who Pablo is tonight? Rumors have circulated that it's likely to be Picasso or Escobar. Indeed, both of those seem more suitable than the next most likely choices: poet and author Pablo Neruda or politician and founder of the Spanish General Workers Union Pablo Iglesias. Kanye, in a recent lecture, voiced his admiration for Picasso, specifically.
Kanye left a clue on his recently tweeted updated tracklist for the album (no more "No More Parties in L.A.," y'all!), which confirmed the meaning of the T.L.O.P. acronym. "Which one?" indicates this is the next thing he'll make clear, and also how much he is getting off on our endless curiosity.
Mostly, though, I think most of us are just deathly tired of tracking the self-important bread crumbs, especially from a guy who just crapped out a tweet supporting Bill Cosby in the midst of this dense hype cycle, as if he needed more attention. This better be good, Kanye.