China's Summer Movie Season Is Lunar New Year's Day
The holiday ushered in the largest single day grosses in Chinese box office history, with the Chinese film 'Mermaid' taking the top spot.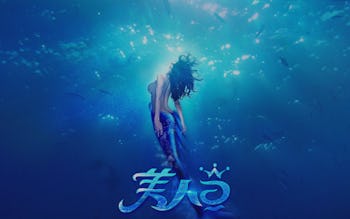 YouTube
Chinese moviegoers flocked to movie theaters Monday to garner the highest box office grosses for a single day in the country ever. The new record coincides with the Chinese Lunar New Year holiday, as Monday was the first day of the Year of the Monkey. Per The Hollywood Reporter, the box office total for Monday was 660 million yuan, which is equivalent to $100.5 million.
That milestone is another page in the ascendancy of the Chinese film market in recent years. With China now the second biggest film market other than Hollywood, its rapid rise might make the industry predictions that it will surpass the U.S. by 2017 happen a bit sooner.
But the New Year holiday record set this year is a 78 percent jump over the single-day record set in China's Lunar New Year in 2015. The top spot at the Chinese box office was Hong Kong action star and director Stephen Chow's latest film, the sci-fi comedy Mermaid. Chow, who is hugely popular in his home country, might also be recognizable to American audiences for helming the early aughts action comedies Shaolin Soccer and Kung Fu Hustle in 2001 and 2004, respectively.
Mermaid grossed $40.9 million, which made it the largest opening for a Chinese movie ever. It's still a bit less than the overall record holder, the Hollywood blockbuster Furious 7, which pulled in a $63.2 opening last year.
The closing gap between the U.S. and China film markets will be a fascinating one to keep an eye on, especially because of trends like the highest single-day record. The $100.5 million is just below the American single-day record of just over $119 million made by Star Wars: The Force Awakens in December 2015. It should be noted that the Chinese film market has grown exponentially without relying on huge Hollywood hits like The Force Awakens.
So why did everyone flock to the movies on the New Year's holiday in China? Basically, think of it like Christmas in the U.S. Everyone is together with their family and they want to do something other than sitting around talking to their family. What else is there to do? Go to the movies, that's what. It's a new tradition in the making, and one that will become increasingly important to domestic Chinese films and Hollywood films alike.