'Voltron: Legendary Defender' Coming to Netflix in 2016
The new 'Voltron' series unveils a sleek logo and official subtitle that reveals absolutely nothing.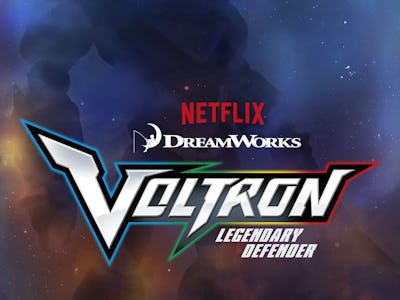 Nerdist, Netflix, DreamWorks Animation
Back in January, Netflix and DreamWorks entered a new partnership to produce the Guillermo del Toro project Trollhunters, as well as a new animated series that will continue the Voltron franchise. Nerdist posted the exclusive reveal of the show's title, Voltron: Legendary Defender, and along with it a very vague image teaser.
It looks … pretty Voltron-y, all right. You bet that's a big robot composed of five robot metal lions. But it's got a rounder and more buff silhouette, indicating only a little of Voltron: Legendary Defender's new design aesthetics.
But the sleek new logo also indicates a return to the old color scheme: The pilots will be outfitted in blue, orange-y yellow, green, and red. But no pink? Does that mean Princess Allura is off the team? Also, will Sven not be in black?
Of course, that is also assuming the original gang are piloting the lions. Legendary Defender is a vague subtitle, but could it possibly hint at the return of the original Voltron Lion Force? Not that any of those characters are defined or iconic, but they are the only Voltron pilots anyone faintly familiar will recognize. The last time the original pilots were in a series was the recent 2011 Nickelodeon series, Voltron Force which aired for only one season.
Voltron: Legendary Defender is slated for release onto Netflix sometime in 2016.