Scott Kelly Takes Photo of Super Bowl From Space, Almost
Astronaut Scott Kelly takes a shot of San Francisco from outer space on game day.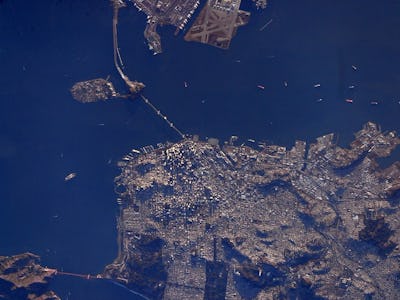 Twitter.com/StationCDRKelly
Just in case you were bummed not to be attending Super Bowl 50 at Levi's Stadium later today, get ready to be even more jealous. You're not even able to see it from outer space, but astronaut Scott Kelly is.
The man Stephen Colbert called "the Kim Kardashian of the International Space Station" posted a photo at noon showing his atypical perspective on the game. Though yes, his seats kinda suck if you actually wanted to watch the players on the field, it is undoubtedly one of the best views you can get of the planet right now.
This guy has been in space longer than any other person ever, so it's likely that he's used to missing out on the big Earth events. And maybe he's a little turned around being out of the atmosphere. That didn't stop a bunch of snarky tweeters in pointing out that the game is actually 50 miles to the east, in Santa Clara.
Who the hell has to be that right all the time? The guy is in space, let him have the 50 miles. This is the dude who has orbited the planet 5,000 times. If he takes a photo of Japan and calls it Santa Clara, just say, "Cool! Thanks!"
So, Scott Kelly, that is very cool. Thank you.