NASA Astronaut Scott Kelly Breaks Record for Days Spent in Space
Let the soothing Coldplay soundtrack guide you through this epic tribute video.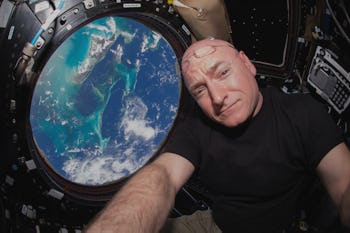 NASA
NASA astronaut Scott Kelly is a winner. Not only is he a real contender for 'world's most epic selfie,' he also just smashed the record for most days spent in space by an American.
He surpassed the previous record of 382 days on Friday. When he returns home from his year-long mission on March 3, he will have spent 522 days total in space.
Judging from this tribute video, spending that much time in space is all about sitting around telling jokes while eating space food, drinking space drinks, hilariously grasping at floating space objects, and listening to Coldplay.
Kelly's year in space is going to teach NASA more about how long-term zero gravity affects the body. This is important, since NASA has big plans to send humans to Mars sooner rather than later (and that trip is expected to take 30 months).
Besides his notable contributions to science, Kelly also might have the best Twitter feed on or off the planet. It's basically a stream of breathtaking photos of Earth from above that will change your perspective on where we live.
Here are some of his latest posts:
Awesome. So awesome.