Being a 'Legend of Tomorrow' Does Not Allow You to Change the Past
Captain Cold may be heading for a legendary tomorrow, but his past is frozen in ice on the CW's 'Legends of Tomorrow.'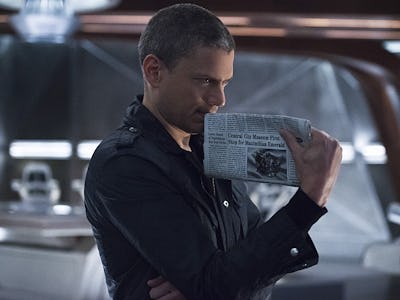 The CW
Every morally-dubious person aboard Rip Hunter's ship shares the same motivation: not to die in obscurity. They are characters looking to take charge of their lives and decide their own fate. But since his introduction, Leonard Snart, aka Captain Cold — was always more concerned with the past than with the future.
Leonard saw Rip's fancy time-hopping ship as an opportunity to restore the childhood of which he was robbed — even at the risk of his present existence. For him, giving up the persona of Captain Cold would be worth it, if he could instead manufacture some pleasant memories with his father whom The Flash viewers remember quite well. But as Leonard learns in this third episode, "Blood Ties," you can't escape your own nature.
When fellow Legend Jax is kidnapped for the second time — an unnerving streak for a teenage superhero — Captain Cold and his thematically-appropriate crime bro, Heat Wave, use him to pilot a separate ship to the Central City of yesteryear. Leonard hopes that in stealing a precious emerald from the city's museum just days before his father was meant to, he can rewrite history and erase the crime that led to his lonely childhood and imprisoned father.
You can take the high-tech supervillain out of crime, but you can't take crime out of the high-tech supervillain. Returning to the ship, Leonard still finds himself to be Captain Cold and his past unchanged. Much like his son — who saw the solution to a robbery as being the same robbery under different circumstances — Poppa Cold could not help but chase a life of crime, as he ultimately tried to sell the emerald bestowed to him by his son to an undercover officer.
Legends of Tomorrow operates on an altogether different thesis from its Arrowverse brethren. If Arrow is about changing one's circumstances and The Flash is about embracing them, Legends of Tomorrow is a show about looking ahead to the next set of circumstances life will inevitably throw at you and committing yourself to rising to the occasion. Your past, however, remains your past. No amount of super speed or time traveling can change that.
By resolving these convoluted back stories early on, Legends of Tomorrow recommits to its focus on the challenges ahead. As of this episode, Captain Cold is no longer a character defined by his backstory but — for better or worse — by whatever it is he does next. The upcoming episode, "White Knights," will place the Legends in the the midst of the Cold War where having their own radioactive teenager may again come in handy.