The New Zorro Movie 'Z' Gets a Latino Director and Writer
Alfonso Cuarón's son Jonás will write and direct the new Zorro movie 'Z.'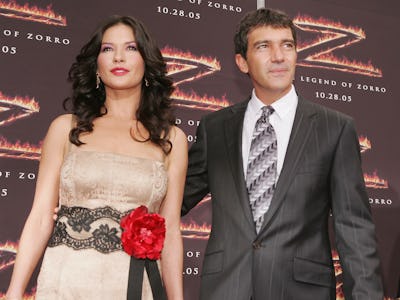 Getty Images
Everyone's favorite mask-wearing, sword-bearing, upholder of justice is making a triumphant come back. That's right, a new Zorro movie called Z has been confirmed, and Gravity co-writer Jonás Cuarón, son of Alfonso Cuarón, will write and direct it. There's no word on if Antonio Banderas will return to the screen for the revived role, but the announcement about Cuarón is noteworthy for one particular reason: he's Latino. The Mexican film director and writer is the first Latino to direct any iteration of the long-standing Zorro enterprise.
The forthcoming film Z marks Zorro's first return to Hollywood since 2005's The Legend of Zorro, and before that, 1998's classic The Mask of Zorro, which both star Antonio Banderas and Catherine Zeta-Jones. Banderas brought an important level of believability to the role, as he was the first Latino actor to play the role of Zorro, following notable portrayals by white actors like Douglas Fairbanks, Guy Williams, and Anthony Hopkins. Although no details about the cast have been confirmed, it's a promising sign that the skilled and respected Latino director is helming the project.
Cuarón recently made waves at the Toronto International Film Festival with his film Desierto, starring Mozart in the Jungle's Gael García Bernal. The new film Z will apparently paint Zorro as a futuristic hero, removing him from his typically old-world setting in previous portrayals. Based on the acclaim he received for Gravity and his recent TIFF sensation Desierto, I have faith that Cuarón will put a modern and much-needed spin on an old favorite.