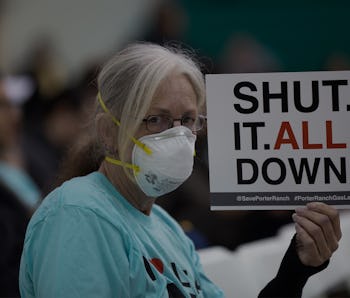 Mind and Body
First Wrongful Death Suit Filed in the California Methane Leak 
More than 20 suits have been filed in the seemingly never-ending natural gas leak.
Getty
An elderly woman living near the busted underground pipeline spraying methane gas all over a northwest Los Angeles neighborhood was poisoned to death by the fumes, claims a lawsuit filed Tuesday in federal court.
The suit, filed by the family of now-deceased 79-year-old Zelda Rothman, seeks unspecified monetary damages from Southern California Gas Co. for her suffering and death. Though Rothman was battling lung cancer, her family believes her condition was irrevocably worsened by the leak. She died roughly three months after the leak was discovered on January 25th.
"We're not claiming the gas company caused (Rothman's) cancer," family attorney Scott Glovsky told Reuters. "We're claiming they essentially poisoned her and hastened her death and destroyed the quality of her life in the time she had left."
Though invisible, you can see a lava lamp version of the gas Rothman was exposed to in this infrared footage from the Environmental Defense Fund:
In January, Home Energy Efficiency Team tracked the extent of the leak and found elevated methane levels detectable as far as eight miles from the source, a much higher level than previously thought.
Speaking to Inverse at the time, the company's report was publicized, but president Audrey Schulman said there wasn't enough data to know how dangerous exposure was.
"Is it safe to be in that range? I don't know," Schulman said. "I'm being flooded with emails from people saying their kids are having problems breathing and taking kids to the ER. I don't think we'll know how bad this is for people for a while. It does seem, anecdotally at least, like an enormous number of bad stories."
This graphic traces the leak around California, with a spike in red indicating elevated methane levels:
The leak began when a gas well ruptured at Southern California Gas Co.'s Aliso Canyon underground facility in October. Since then, at least 80,000 metric tons of deadly methane has been pumped into the California sky, and forced mass evacuation from the Porter Ranch neighborhood a mile from the source where residents complained of nosebleeds, nausea, rashes, and headaches.
Rothman also lived in Porter Ranch, and her family claims she too suffered from extreme headaches in her final days. She required constant oxygen support from December to the time of her death.
A class action lawsuit from Porter Ranch residents has also been filed, one of more than 20 civil lawsuits against SoCal Gas, the city and county of Los Angeles, the state of California, and air quality regulators. County prosecutors have also filed criminal charges.
January 31 marked the 100th day of the leak with no end in sight, and the Environmental Defense Fund says it will have the same impact on the environment over the next 20 years as seven coal-fired power plants. Then there are the 3,954 relocated, with at least one child spending four nights in an ICU with respiratory problems.