The California Gas Leak Is Spewing Methane All Over the San Fernando Valley
Researchers have found the toxic gas as far as 8 miles from the site.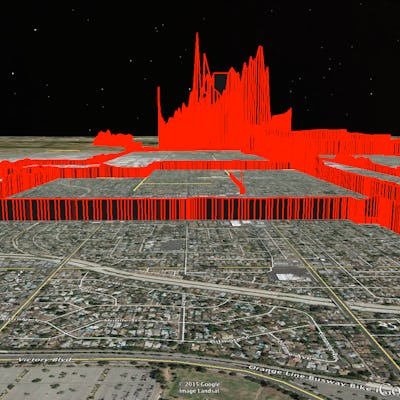 HEET
A slow-burn catastrophe in northwestern Los Angeles has broadened its scope as an ongoing natural gas leak from a storage site is causing elevated methane levels detectable as far as 8 miles away, a much wider swath than previously confirmed.
"Is it safe to be in that range? I don't know," Audrey Schulman, president of Home Energy Efficiency Team, a non-profit that helped track the extent of the leak, tells Inverse. "I'm being flooded with emails from people saying their kids are having problems breathing and taking kids to the ER. I don't think we'll know how bad this is for people for a while. It does seem, anecdotally at least, like an enormous number of bad stories."
In October, a gas well ruptured at Southern California Gas Co.'s Aliso Canyon underground facility. Ever since there's been an invisible geyser belching more than 80,000 metric tons of deadly methane — the main component of natural gas — into the California sky. The odorless, invisible gas is difficult to detect, but it's a hazard to humans and to the planet, as it carries an atmospheric warming power 80 times higher than carbon dioxide over a 20-year period. Thousands have already been evacuated from the Porter Ranch neighborhood a mile from the leak after complaining of nosebleeds, headaches, rashes, and nausea. A class action lawsuit from Porter Ranch residents followed, and though the company has spent $50 million trying to stop the leak these past four months, they've been unsuccessful.
Schulman provided Inverse with several graphics showing the leak's worst areas. The elevated red spikes indicate increased presence of methane.
Too many people who've been through the same situation could have warned Porter Ranch. Petroleum experts have warned of a systematic danger in the industry, pointing to a pattern of major leaks from similar sites in Kansas, Texas, California, and Colorado. A Los Angeles Daily News investigation with California regulatory records found SoCal knew its pipes and injection wells were deteriorating, though investigators said the company didn't violate any laws.
"So far as I know, this is the largest natural gas leak recorded," Schulman says. "And SoCal has just not been straightforward on any of this. My understanding is there's been a safety valve broken since 1979. And there's lots of infrastructure like this across the country just falling apart."
Though both California's Office of Environmental Health Hazard Assessment and the South Coast Air Quality Management District assured residents the leak hasn't increased exposure to toxic gas, these detectable levels so far from the site have people wondering how safe they really are.
It's still uncertain whether the detectable levels 8 miles out are a danger. Researchers say inhaling low concentrations of methane isn't a health concern, but the natural gas could be carrying other compounds even more harmful even at trace levels.
Nathan Phillips, an earth and environment professor at Boston University, explained to InsideClimate News:
"Whatever else may be in the gas — benzene, toluene, xylene — that is what people may be breathing. Even though we're not measuring things other than methane, there is a legitimate concern that there is that other nasty stuff in there."
In Schulman's opinion there are no safe levels of exposure as known carcinogens including Benzene may be present in previously underestimated levels.
"Assume it will be bad. Benzene has been found to be elevated far above the level that it should be," she says. "The gas company had said it was only at two parts per billion, now we're measuring it 50 times higher in Porter Ranch. I would say everyone should just take precautions."
The Associated Press reports SoCalGas may have underestimated the level because it uses a different background level to measure against.
The leak's scope was tracked by the Home Energy Efficiency Team, a nonprofit out of Cambridge, Massachusetts, and Phillips and Robert Ackley of Gas Safety Inc. using a laser-based system. The car-mounted monitor recorded methane concentrations as well as tracking Google Earth readings as the researchers traveled further from the gas leak.
In December, the Environmental Defense Fund released this infrared video that lets us see the leak. The trippy footage could almost remind you of a lava lamp until the narrator reminds you that "daily near-term climate damage caused by the Aliso Canyon leak is equal to the emissions of 7 million cars." To put it another way, the effect Earth's atmosphere is equivalent to burning about 800 million gallons of gasoline.