The Newest Infrared Video of a California Gas Leak Is Trippy and Sobering
The otherwise invisible methane leak is like 7 million cars' effect on the climate.
by Sam Blum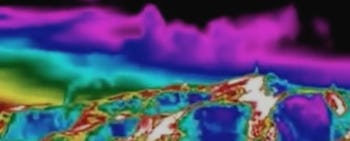 An enormous gas leak northwest of Los Angeles has been pumping 62 million cubic feet of methane into Southern California airspace since October. The geyser-like plume, invisible to the naked eye, is flowing from a ruptured injection well managed by Southern California Gas Company at its Aliso Canyon storage facility.
The leak, as infrared video uploaded today by the Environmental Defense Fund shows, poses a large environmental threat, as it spews clouds of harmful methane, the main ingredient in natural gas:
As the video's narrator notes, disgorging this much methane is "bad news for the climate," given that the greenhouse gas has over "80 times the warming power of carbon dioxide over a 20-year period." Additionally, EDF officials estimate the "daily near-term climate damage caused by the Aliso Canyon leak is equal to the emissions of 7 million cars." The California DMV estimates there are are over 33 million registered vehicles in Los Angeles County.
Compare and contrast the seemingly tranquil atmosphere at SoCal Gas' Aliso Canyon facility with and without the aid of infrared:
SoCal Gas has been working to plug the seeping fumes for two months, but has said the job might take until February or March. The L.A. County Department of Public Health has advised residents that the leak poses no direct health threats, although the usually odorless methane has been treated with chemicals to make it smell like "rotten eggs," forcing SoCal Gas to move nearby residents into hotels.
Infrared cameras that allow invisible greenhouse gases to be seen have been heralded as something of a milestone. The useful technology is a new development.