The Calculator Was the One Familiar Face You Didn't See Coming on Last 'Arrow'
Many old faces returned on last night's 'Arrow,' but it's the one from Felicity's past that will change everything.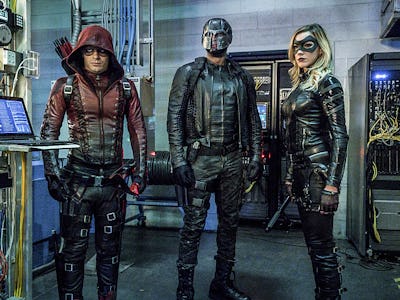 The CW
Season 4 Episode 12 of Arrow, "Unchained", was a parade of old faces but in the end, they were all eclipsed by a single brand new one: the Calculator's. Introduced in an unassuming fashion with an offensively stupid moniker, the would-be-throwaway villain gained major significance in the closing moments of the episode, as he was revealed to be Felicity's father. Beyond the ongoing grave mystery, it is comforting to know that Arrow can still deliver quieter surprises.
The reveal was cleverly blunt without any dramatic gasps. In the increasingly crowded arena of superhero TV, creating characters whose inner lives resonate with viewers beyond the mask they might wear is crucial. Short of having the Calculator hack into some nuclear codes, it would have been a hard sell to make the character a salient villain we looked forward to seeing more of, based on his concept alone. Arrow succeeded in doing just that by instead making him a specific nuclear bomb to Felicity, a character who has already suffered more than her share this season.
While the Calculator is a cheap Silver Age villain, he makes for an effective update once stripped down to the bare essentials of simply being extremely adroit at computers. Here, he is just a super hacker who can rival Felicity, which is already plenty scary and sets the stage for a very personal conflict — maybe as soon as next episode.
All the cameos of "Unchained" — Roy, Nyssa, Katana, and, technically, Shado — were ultimately played for applause. If there were a live audience, Roy's return would garner an especially loud reaction — though Katana's awesome sword fight with Nyssa would get fists pumping.
Thea's final send-off to Roy in the last moments of the episode was, likewise, an appropriate farewell to their abruptly interrupted relationship. Beyond the Lazarus Pits and graveside mysteries, Arrow never forgets its characters, which leads us to believe that the identity of this grave-dweller will be a devastating loss to viewers, as well.
Could it be Thea? The reveal of the Calculator's identity proves that Arrow is still a show that favors the dramatic choice over the explosion. What if Damien actually — heavens forbid — kills off John Diggle? Diggle does has a personal family vendetta that could easily put him in Darhk's crosshairs. What if it's Roy, whose off-screen death could devastate Team Arrow? Could it be Laurel, who continues to divide the Arrowverse fanbase?