We Ate Burger King's Butter Burger and There's Definitely Not Butter in That
Get ready for garlic in the mouth and grease on your face.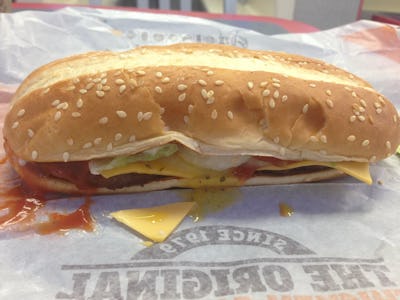 Sarah Sloat
In a bellowing call to its fast food competitors, Burger King has announced that it is no longer content to dwell in its mediocre state — the hour of the regular burger is over; the time of the Extra Long Butter Cheeseburger has begun. The main hype here is the "sauce buttery" (the BK Lounge's wording, not ours), a garlic-buttery concoction slathered between the burger and the bun.
Inside Burger King they were pumping Roy Orbison's "Pretty Woman" and there was this sort of ethereal light made from the puddles that had been tracked indoors and the glow of pink neon. When I ordered the Extra Long Butter Cheeseburger I asked the Burger King Employee, "Have a lot of people ordered this today?"
"Yeah, pretty much," she responded. We shared a knowing look.
Apparently there is a 2 for $5 deal but I had just had falafel, so two Extra Long Butter Cheeseburgers were just not going to happen. I ordered one and it ended up being, with tax, $5.43. So, go figure.
The promotions for the Extra Long made the burger seem particularly extra long. It was not. But to be fair, I'm a gluttonous American and have a poor idea of what portion sizes means.
There's been a lot of of hype on the burger — much to the eye-rolling of Midwesterners who have known about butter burgers for a long time. Legend has it that the first burger in 1885 came with butter slathered on the bun, a tradition upheld by Wisconsin's Kroll's Hamburgers and mass marketed by Culver's. In its written history of the butter burger, Lucky Peach said that some consider a butter burger to be a delectable meal with butter spread on the bun; others prefer to mix the ground beef up with butter as they make the patty. At Burger King, it seems that a squirt of "sauce buttery" somewhere in the vicinity will do.
Before we go any further, here's the marketing:
Here was my burger:
It was maybe too much to hope for but the "sauce buttery" on the flame-broiled burger is, in fact, not butter. The drizzle is actually a lab concoction of, to quote Burger King's nutrition guide: Butter Garlic (Soybean Oil), Hydrogenated Soybean Oil, Salt, Natural Flavor, Soy Lecithin, Artificial Flavor, Beta Carotene (color), Garlic Powder, Salt, Vegetable Oil (Soybean and/or Canola), Spices, Sorbic Acid, Calcium Disodium EDTA to protect flavor, Lactic Acid, Annatto (color), Natural Flavor, natural Garlic Flavor, and Extractives of Turmeric.
Beta-carotene is a group of yellow, orange, and red pigments that can be made naturally or in a lab; Annatto is a orange-red coloring that comes from the seeds of an achiote tree. Natural flavoring is, besides being the fourth most common ingredient on labels across the country, essentially flavors taken from natural sources, purified and extracted in a lab, and then squirted back into food.
The burger mostly smelled like the American Cheese oozing inside, a product that, again, is far from just cheese (cultured milk, sodium citrate, artificial coloring, etc.) The hoagie bun was, for lack of a better word, spongy. The main flavor I got was the garlic portion of the "sauce buttery" — a reminder that, much like escargot, if you put garlic and butter on something, it won't taste terrible.
When I left Burger King, they were playing Ginuwine's "Pony." It didn't feel as right as I wished it had.
I gave some to Inverse writer Yasmin Tayag, a self-proclaimed "fan of the flame-broiled" fares of Burger King.
"I don't taste the butter, but I can feel it," she said. "I can feel it coating my insides."
I agreed. It was like I had dumped my hand in buttered popcorn, then rubbed it over my face.
The Extra Long Buttery Cheeseburger is made up of 710 calories, 1,250 milligrams of sodium, 90 milligrams of cholesterol, and 47 grams of fat. According to the Mayo Clinic's Calorie Counter, I am allowed about two Extra Long Buttery Cheeseburgers a day to make up my daily calorie intake. But, then again, you don't go to Burger King trying to stay slim.
For whatever more "Extra Long" gives you, the ButterBurger of Culver's is about 540 grams of sodium better for you.
What you're mostly getting, as with all Burger King meals, is a lot of corn. Studies have found that the cows that we eat eat a lot of corn. That's not necessarily terrible for humans, but does contribute to drained water supplies, degraded soil, reliance on fossil fuels, and overall environmental degradation. So, there's that.
Final verdict: Ehhhhhhhhh.