Vin Diesel Announces 'Fast & Furious' 9 and 10 on Instagram
Get ready for new movies every other April until 2021.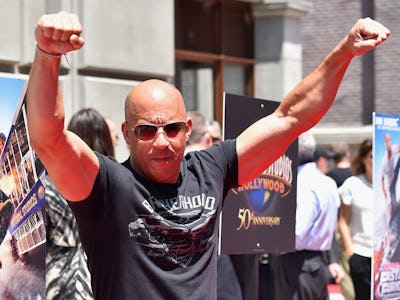 Getty Images
The mighty, gravel-voiced Vin Diesel has taken to Instagram to announce his plans for total car-related world domination. Namely, he announced the release dates for two more new Fast & Furious movies.
Proudly declaring "2 Decades, 10 Films, 1 Saga," Diesel's post confirmed that we're going to get the F. Gary Gray-directed Fast 8 on April 14, 2017, which will be followed up by a ninth installment on April 19, 2019, and a tenth sequel in the series to be released on April 10, 2021.
That's 20 years of suped-up cars driven by Diesel and his crew. Who knew it would last this long when they were all just trying to steal DVD players in the Point Break ripoff first movie from 2001? Unfortunately no other details have been given about these new movies. We don't know what they'll be called, though, given the series' tendency for weird naming conventions, they should be interesting, and we also don't know who will direct or star in them. It's obvious that Diesel will be back, but who else?
Diesel's instagram also raises the question: Will Fast & Furious 10 be the final chapter in the saga? The fact that these movies make buttloads of money makes any sensible person realize Fast & Furious 10 probably won't be the end for Dom Toretto and his familia. There will be plenty of spinoffs to complete what we'll call for now the "Fast & Furious Cinematic Universe." There's definitely going to be a spinoff for characters like Dwayne Johnson's Luke Hobbs, but we're gunning for a Han and Gisele standalone movie.
Either way, Diesel and his billion dollar franchise won't ride off into the sunset just yet.