Supergirl Fights Her Mirror Image, But Fails to Reflect on Herself
Supergirl confronts her own worst enemy: herself.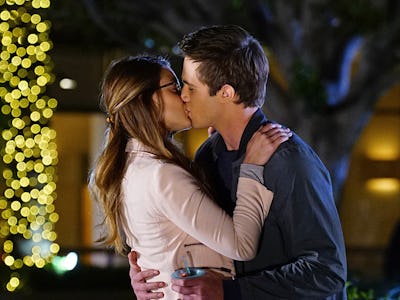 CBS
The evil doppelgänger trope is usually a great one that allows for both action and character development, as a hero will often need to learn something crucial about themselves in order to gain the edge on their exact duplicate. Unfortunately, Supergirl kind of fumbles what should be an easy narrative when Bizarro — Maxwell Lord's zombie copy of Supergirl — fails to resonate with the episode's greater theme of Kara's struggle to face her own personal life.
As Kara attempts to repair her friendship with Winn, her professional life gets personal in her blossoming relationship with Adam, Cat's son. Superheroes so often swear off romantic lives out of fear that any loved one will get caught in the crossfire that it is now its own trope. So there's a tragedy already in progress in the Maxwell Lord subplot, as the maniacal billionaire reveals his knowledge of Supergirl's secret identity — and, by extension, knowledge of her family and friends. Maxwell predictably targets Kara during her second date with Adam, pitting her against the Frankenstein's Monster replica of herself introduced in last week's episode.
A shame, too, as her date was going so well.
The notion of a conflicted hero fighting a literal manifestation of said inner conflict — with the bonus of an evenly-matched fight between equals — is certainly an appealing one. It's a common thing in popular culture: Street Fighter sees Ryu fight Evil Ryu, The Legend of Zelda series pits Link against Dark Link, and Scott Pilgrim vs. the World even directly pays homage to it when Scott confronts NegaScott. But it is a trope that works best when the doppelgänger is an extension or some result of the hero's inner conflict. This week's Supergirl fell just short of getting it right.
Theoretically, Kara's real struggle in "Bizarro" was her compromise between life as Kara Danvers and life as Supergirl. The thesis is loud and clear when Kara is within inches of cancelling another date with Adam because of Bizarro. Alex warns her that there will never be a perfect time and Kara deserves a life, too, but Supergirl and every other superhero show in existence have perfected the tradition of romantic martyrdom. Unlike Buffy Summers, a heroine who was defined by her insistence to maintain a normal life in the face of her supernatural calling, Supergirl continues to hammer this as an impossible outcome.
As a result, James, of course, got hurt. He was this week's distressed damsel, as Bizarro shared enough of a connection with Kara to be aware of her feelings for James without fully comprehending them. It was a sad moment and done exceedingly well.
"Bizarro" hits all the necessary beats, but, ironically, fails to provide any moment of reflection for Kara herself. Being a Frankenstein's Monster of Supergirl, Bizarro was cobbled together from the Jane Does that Maxwell Lord on whom performed experiments, in order to create his funhouse Supergirl. As a result, the episode's focus ends up being on these Jane Does rather than on Kara's inner conflict.
Kara is a true superhero, so, of course, other lives being lost in Maxwell's science project would weigh heavily on her, but the episode loses on a real opportunity to have Kara confront a darker side of herself, which we have yet to see.